How To Protest Trump's Firing Of James Comey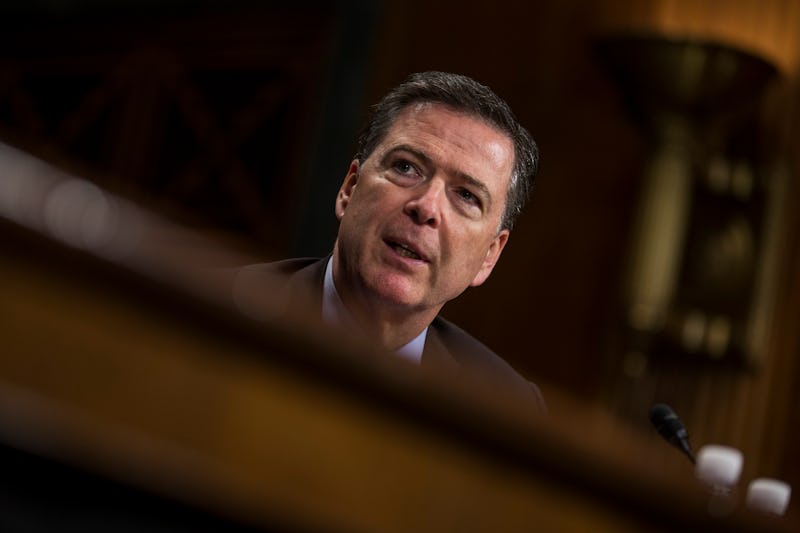 Zach Gibson/Getty Images News/Getty Images
Tuesday's firing of FBI Director James Comey took just about the entire country by surprise. President Donald Trump has probably benefited the most from any errors Comey made during his tenure at the FBI. After all, the Hillary Clinton email investigation likely won him the election. Now, Trump wants to send Comey packing, which is especially curious if Comey reassured the president three times he wasn't under investigation (as Trump's dismissal letter states). Ya, that's not normal.
Here's how to protest Trump firing Comey, because the timing is suspect and the Russia issue is not going away.
As Vox explained Wednesday, this is about much more than just one person being fired. Earlier this week, the associates of Michael Flynn, the former national security adviser, were served subpoenas. Then Senate investigators asked the Treasury to find any financial ties between four Trump campaign employees and Russia (Flynn is one of them). Plus, don't forget, President Trump met with Sergei Lavrov, Russia's foreign minister at the White House Wednesday. And most explosively, it seems that Comey asked for more funding for the Russia investigation before getting fired.
So, yes, clearly there are reasons to protest Comey being fired. Not necessarily to bring him back — that's surely not going to happen. But the only hope of a successful investigation into the Russia ties is with a special prosecutor appointed by the Department of Justice. Evidently, in the late '90s, a Watergate-era bill expired taking that power away from Congress. So it all rests on the Assistant Attorney General Rod Jay Rosenstein: These protests actions might get him to do it.