Reading Through "Vault 7" Is A Daunting Task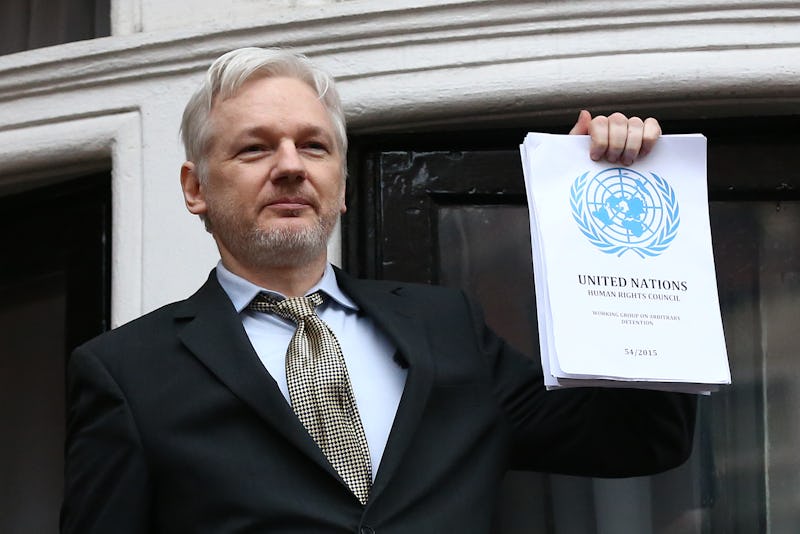 Carl Court/Getty Images News/Getty Images
Obama isn't the only one being accused of spying this week. And for the record, Obama has firmly denied Trump's accusations that he wiretapped Trump Tower. Now, Wikileaks has published thousands of documents that reveal supposed hacking secrets the CIA has allegedly been using to break into smartphones, computers, and popular encrypted messaging apps. And if you're interested in reading more about the allegations, beware that things can get confusing. Knowing how to read Part 1 of Wikileaks' "Vault 7" may help out a bit.
In a statement to The New York Times, CIA spokesman Dean Boyd, said, "We do not comment on the authenticity or content of purported intelligence documents." That being said, the contents of the leak should be viewed as allegations until they are either proven or disproven.
The 8,761-document trove of data is the largest leak on alleged CIA data to date, greatly surpassing the number of documents leaked by whistleblower Edward Snowden about National Security Agency surveillance in 2013. Wikileaks has not revealed the source of the information, but said in a statement that the leak is intended to encourage investigation of U.S. surveillance programs. According to Wikileaks:
The source details policy questions that they say urgently need to be debated in public, including whether the CIA's hacking capabilities exceed its mandated powers and the problem of public oversight of the agency. The source wishes to initiate a public debate about the security, creation, use, proliferation and democratic control of cyberweapons.
While Boyd has said that the agency would not comment on the authenticity of the documents, that hasn't stopped others from weighing in on the significance of the allegations.
For example, Edward Snowden took to Twitter to offer his analysis of the leak.
If you want to access the "Year Zero" documents to form your own analysis of the alleged CIA surveillance methods, go to wikileaks.org and type "Vault 7" into the search bar. From there, you can find the press release provided by Wikileaks about the documents, as well as some helpful background information, like this handy flowchart that outlines the CIA organizations mentioned in the documents.
After reading all of the necessary background info, you can access the "Year Zero" documents within wikileaks.org itself by clicking the "Documents" tab in the top left-hand corner of the website. From here, the documents are organized by CIA branch, with thousands of documents available under each heading. Warning: you may have to sift through millions of lines of computer code to get the good stuff, but you don't want to miss the opportunity to get your eyes on what could potentially prove to be confidential government files.
While these documents leave a lot of questions unanswered — and there are still supposedly many more documents to come — flipping through "Year Zero" could offer some thought-provoking insight into cybersecurity.