All The Former Glinda's and Elphaba's Nailed Their 'Wicked' TV Special Performances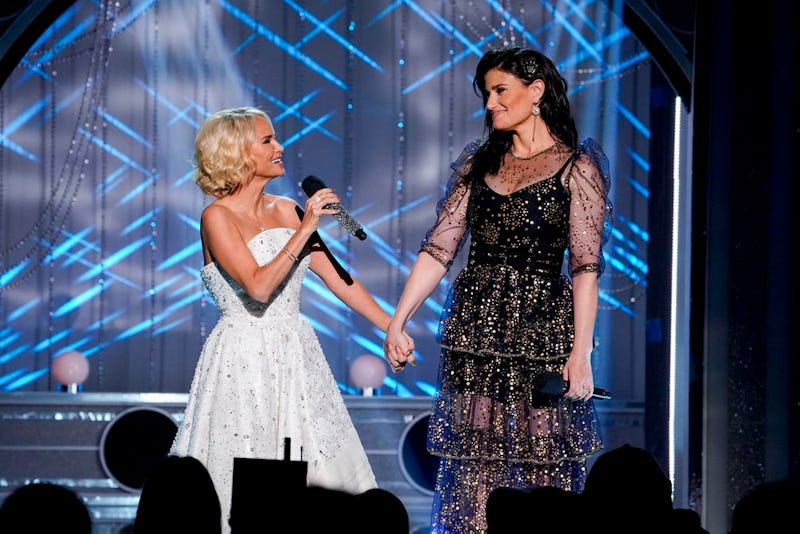 Virginia Sherwood/NBC
The musical Wicked opened on Broadway 15 years ago today, on October 30, 2003. The Untold Stories Of The Witches of Oz captivated audiences with a story about female friendship prevailing over preconception and the rebellion it sometimes takes to do what's right. In honor of that amazing milestone, NBC aired a celebratory concert that brought old and new performers to Stephen Schwartz's unforgettable music. No need to click your heels if you missed it, you can rewatch NBC's A Very Wicked Halloween over and over and every epic, star-studded performance.
Hosted by original witch BFFs, Idina Menzel and Kristin Chenoweth, the pre-recorded special aired Monday night for an early Halloween present. You can watch it in full on NBC.com or on demand if you have a cable subscription, or catch the concert with your Hulu subscription. However, every performance showed up GIF'd and recorded on social media (below) — so you actually don't even need to leave this page to get the magic back. See what we did there?
The audience was decked out in Wicked and/or Wizard of Oz themed costumes. The concert did not include every one of Schwartz's songs, but unless you're a real Wicked hipster, your fave was probably there. Here's a quick rundown of the performances. Be sure to get your tissues out before the end. If Elphie and Glinda don't make you cry, what are you even doing here?!
Jessica Vosk & Amanda Jane Cooper Show Us "One Short Day"
The current (and so incredible) Broadway cast kicked things off from the Gershwin Theater. Anyone else still skeeved out by those dancing Wizomania "Flathead" things? Also, remember this premiered 15 years ago, so any connection you might make to the self-aggrandizing Wizard "whose major itinerary is making all Oz merrier" and any current political leaders is entirely coincidental.
Adam Lambert & Ledisi Croon "As Long As You're Mine"
Fun fact — in 2005, Lambert played Fiyero as an understudy in the Wicked first national tour and then in the Los Angeles production well before becoming an American Idol favorite.
Kristen Chenoweth's Participation-Heavy "Popular"
If you thought Chenoweth couldn't get any sassier, you were wrong! This is the most extra performance of the most extra showtune on the planet, and we're all living for it.
"What Is This Feeling" Got Swankified By Pentatonix
Honestly, this song is an underrated karaoke choice.
Idina Menzel's Still "Defying Gravity" 15 Years Later
The Tony winner got a little soulful with her old standard — she's allowed to mix it up after 15 years!
Ariana Grande Slaying "The Wizard & I"
Broadway geek Ariana Grande is the best Ariana Grande, and let's stop pretending otherwise! They introduced her with a picture she took as a preteen fan seeing the show for the first time, and it was so adorable. Can she please play Elphaba in the Wicked movie that is allegedly still happening?
An Epic "For Good" Reunion
Time to cry, y'all. Fans of the Les Miserables and Phantom of the Opera anniversary concerts know that no special is complete without an epic sing-a-long, and this one was a sisterhood to be reckoned with, that's for sure! Chenoweth and Menzel brought out multiple generations of Glindas and Elphabas to sing their final, heartbreaking duet that has been dominated summer camp talent shows for a decade and a half. The powerhouse ladies on stage include, again, current Broadway leads Jessica Vosk and Amanda Jane Cooper, as well as Kara Lindsay, Jackie Burns, Julia Murney, Kendra Kassebaum, Lilli Cooper, Donna Vivino, Caroline Bowman, Carrie St. Louis, Kristy Cates, Laurel Harris, Emily Mechler, Dee Roscioli, Jenny DiNoia, and Kate Fahrner.
Oh, what a celebration they had Wicked is still heartwarming and powerful as ever on Broadway, and the generations of cast and fans will keep that love going for years to come.