'Wicked' Is Coming To TV This Halloween In A Way That Will Make You Feel So Unlimited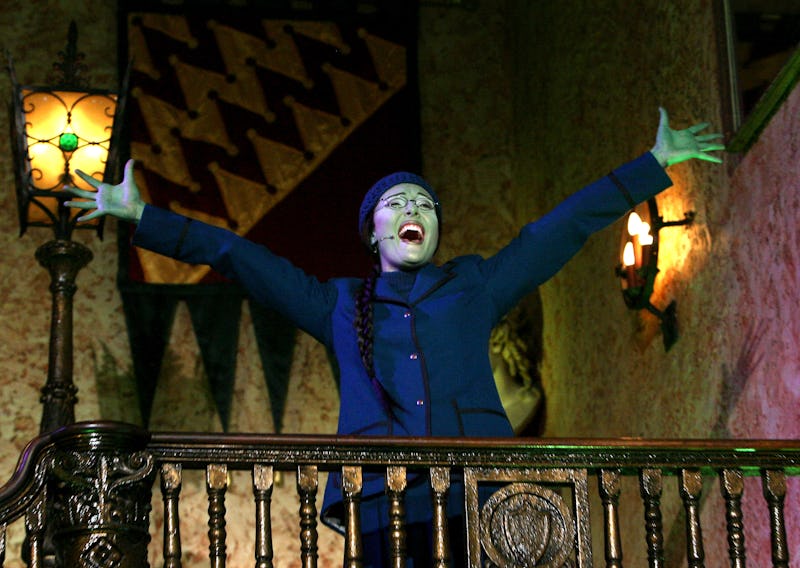 Sergio Dionisio/Getty Images Entertainment/Getty Images
The Venn diagram of theater kids, moms, and Broadway fans overlaps in a section labeled Wicked, and now, there's good news for all of them. A Very Wicked Halloween Broadway special is coming to NBC just in time for Oct. 31, and it's got everything: Music! Actors! Singers! Celebrities! Original stars Idina Menzel and Kristen Chenoweth! That song from Wicked you won't stop singing the car!
The full title is A Very Wicked Halloween: Celebrating 15 Years On Broadway, so that should give fans an idea of what to expect: a Halloween celebration of Wicked's 15 years on Broadway. It will air exclusively on NBC on Monday, October 29, and the official press release from NBC described it as "a concert-style special of songs and stars from the stage hit about life in Oz pre-Dorothy." Half-musical, half-tribute-to-a-musical, all good times.
It's possible that the only people more excited than Wicked devotees are the people behind the "spooktacular." Per Deadline, Doug Vaughan — the Executive Vice President, Special Programs and Late Night at NBC Entertainment — gushed about the details in an announcement:
"Wicked is a blockbuster musical playing all over the world and still selling out night after night after 15 years on Broadway. We're thrilled to be partnering with Emmy and Tony-winning producer Marc Platt and the entire Wicked team to celebrate the enduring success of this show."
What's more, Vaughn then confirmed the two original leads would return — though he was vague on the details of their appearances. Hopefully they'll perform one of the show's many classic numbers together, but if they are, Vaughn wasn't telling. He said,
"We're especially excited to have Idina Menzel and Kristin Chenoweth reunited along with big guest stars in front of an audience — in costume hopefully — to help us celebrate the Halloween season."
Also per Deadline, Chenoweth and Menzel won't be the only celebrities present. The industry site reported that Ariana Grande, the members of beloved A Cappella group Pentatonix, and the current Broadway company of Wicked will all be part of A Very Wicked Halloween as well, plus more that are yet to be announced.
If you're a fan of the musical format and are hesitant to go all in on this one, know that it won't be exactly like the live musical adaptations that have come before it. Deadline reported that the special will not be aired live. Repeat, A Very Wicked Halloween will be pre-taped, and is set to be filmed in the next few weeks at Broadway's historic Marquis Theater. Moreover, the show will not be performed in its entirety for audiences watching at home.
The website Broadway World noted that Wicked isn't just any regular musical. In its 15-year history, it won "over 100 international awards including the Grammy Award and three Tony Awards," and "has been performed in over 100 cities in 14 countries". Broadway World also stated that the musical has been translated in its entirety into six languages. It's their estimation that "over 55 million people worldwide" have seen Wicked at least once.
All in all, it's a smart move by the network to air a special tribute to Wicked — not only in general, but around Halloween, when the witchy and magical nature of the show feels even more appropriate. Is it time to break out that Elphaba vs. Glinda Halloween costume again? Definitely.