Here's How To Safely Wear Glitter Without Damaging Your Eyes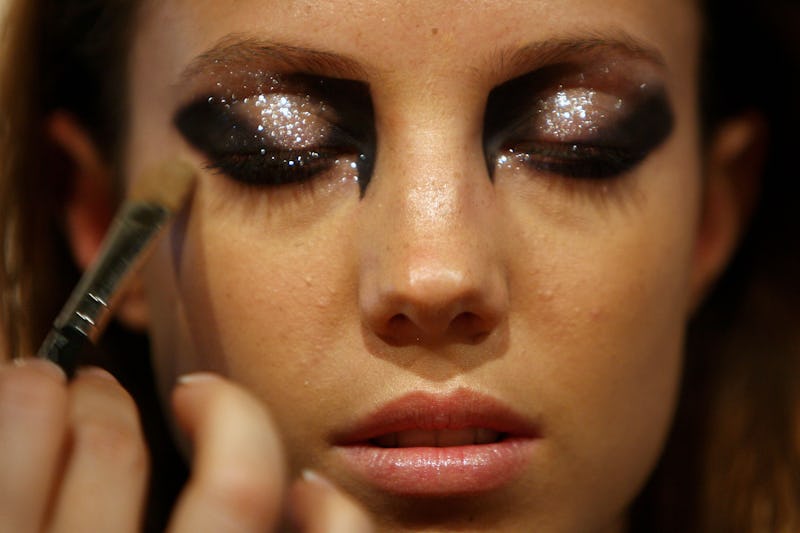 Kristian Dowling/Getty Images Entertainment/Getty Images
Whether you want to spice up your usual makeup look or you just live to sparkle, glitter is usually the answer. The only problem with slathering yourself in the shimmering stuff is that wearing glitter can be dangerous if you're not using the right type in the right way. But since the fun of makeup is being able to experiment and express yourself, I emailed with Amanda Hume, green beauty expert and VERT Beauty Boutique founder, and Hannah Hatcher, makeup artist and global educator for jane iredale, to find out the safe way to use glitter so you can fully douse yourself in it without worry.
If you'd simply rather not risk messing with glitter though, Hume recommends some alternate ways to achieve a similar, sparkling effect. One suggestion she has is to opt for loose, mineral pigments which will provide a shiny and glimmering effect not too unlike glitter. Want the glitter look for your lips? Opt for a lipgloss that already contains glitter particles or a high-shine, metallic lipstick. Oh, and you can totally use those same pigments or glosses on your cheeks for a shimmery highlight as well. But if you feel there's just no substitute for the real deal, here are six ways to ensure you won't damage your skin or eyes when rocking all the glitter:
NYX Face and Body Glitter, $6, NYX Cosmetics
The first thing both experts warn against is bringing craft glitter anywhere near your face. According to Hume, craft and cosmetic glitter are cut differently and use different dyes— and both the way craft glitter is cut and dyed are not safe for your skin. Hatcher explains: "The tiny hexagonal cutting of the glitter can be sharp on your skin and cause microscopic tears, and the dye is all chemical based and not a true pigment and can cause skin irritation." And I'm guessing you probably don't want tiny cuts and irritation in your eyes or mouth, not to mention on the rest of your face. Moral of the story? When it comes to makeup, only use cosmetic glitter that states it is for use on the face and body.
Makeup Geek Sparklers, $10, Makeup Geek
Hatcher adds that if you're worried even cosmetic-grade glitter might cause irritation, you should look for a glitter formulated with mica. She explains that sometimes mylar is used but is synthetic and can be irritating. Mica, on the other hand, is a highly reflective mineral that is less likely to cause a reaction in the skin.
3. Try It With Gloss
Maybelline Lip Studio Shine Shot, $5, Target
To help anchor glitter to your lips so you don't just inhale it, Hatcher recommends using a base of clear lipgloss or even mixing the glitter and gloss together before applying. You could also try packing glitter over a liquid lipstick before it sets or over any other lip product that is emollient enough for glitter to stick to it.
Too Faced Glitter Glue, $20, Too Faced
Just like a sticky base helps glitter stick to your lips, so too does it help when applying glitter to your eyes. While a glitter eyeshadow primer will do the trick, Hume says if you need extra staying power, you could try applying glitter over eyelash glue. That way, you know there won't be any fall-out.
Kat Von D Lock-It Makeup Setting Mist, $26, Sephora
To help apply glitter to your eyes in a full-coverage way that will prevent it from falling into your eyes, both experts recommend using a damp brush. Hatcher suggests using a setting spray to dampen your brush to further help glitter stay in place instead of wandering into your eyes.
Meltdown Makeup Remover Cleansing Oil Stick, $26, Urban Decay
When you're ready to remove your glitter (although, are you ever really ready?), Hatcher recommends using an oil-based cleanser. The oil, she says, will help make sure every last trace of glitter is removed and won't cling to your skin. Because even though it's kind of cute how much glitter wants to stick around, you wouldn't want to accidentally rub it into your eyes the next morning.
So go ahead and roll around in that pile of glitter. As long as you have the right type of glitter, base, and cleanser, you'll be good to go no matter how much of it you want to apply.