Here's How To Score A Classic Leather Jacket On Sale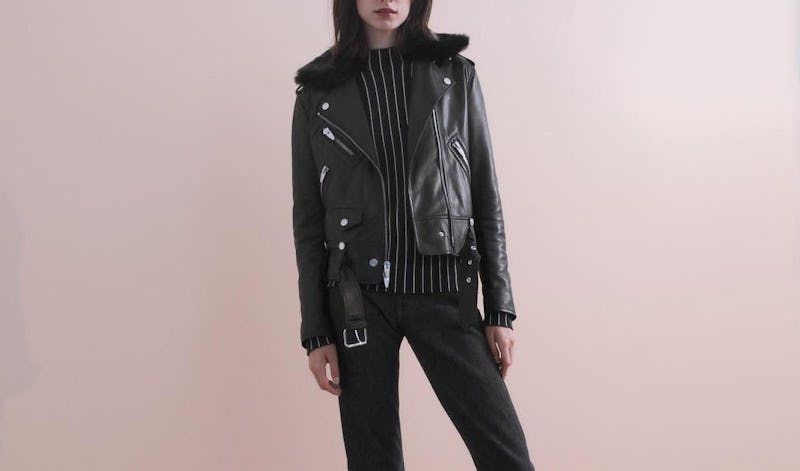 There's pretty much nothing I love more than a good sample sale, and living in New York means having access to them. But when I heard about The Arrivals' online sample sale, I have to admit I was super pumped that I could click "purchase" from the comfort of my couch. That's right, for 48 hours this week, you'll be able to purchase The Arrivals' chic and classic outerwear and accessories for up to 70 percent off. So what are the deets of this sale? Here's what you need to know.
The Arrivals digital sample sale officially starts on Tuesday, April 4 and will last for 48 hours. During this time, it's clearing out last season's merchandise to make room for new things, and customers are the winners here. Everything in the sale will be discounted up to 70 percent off, and according to the brand that means accessories will start at $20, jackets at $60 and leather jackets at $350. This is big news for the brand, which doesn't typically offer items at sale prices. And considering their gorgeous leather jackets usually start at $695, this is a serious savings. If you're considering investing in a leather jacket, I'd say this is a good time to do it.
It looks like The Arrivals is hyping the sale on Instagram, and according to this post the sale will be starting at 9 a.m. Tuesday. Although we don't know who's going to be in the sale, from the looks of The Arrivals' Instagram, the pieces will be gorgeous.
Loving these dusty pink dusters.
The Arrivals' leather jackets have a classic moto shape.
You really can't go wrong with anything on the store's website. Stay tuned to the brand's Instagram to hear more about the sale — these deals are too good to miss.