How To Stay Safe During The Heat Wave That's Sweeping The Country RN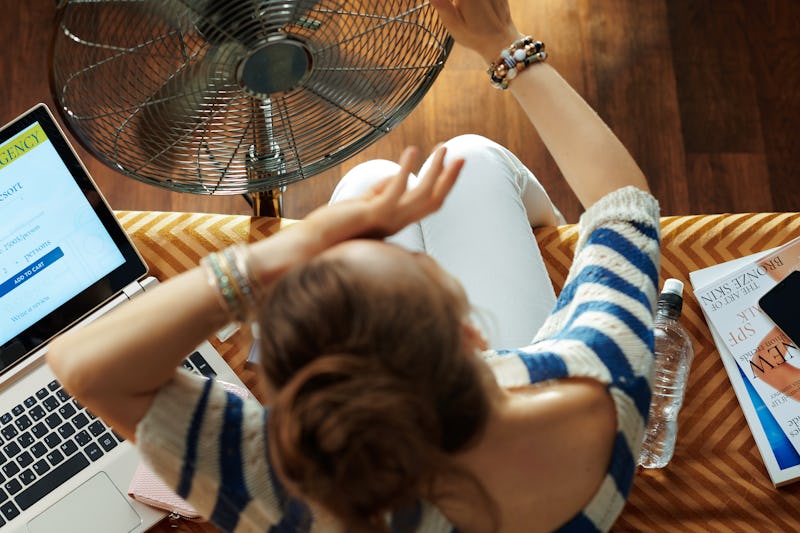 Shutterstock
Over 24 states will experience a massive heat wave over the next few days, with temperatures expected to reach over 95 degrees fahrenheit for more than half of the population in the continental United States. As the weekend approaches, it's important that Americans know how to stay safe during a heat wave, as extreme temperatures can sometimes pose serious safety risks. The list below offers some guidelines to help ensure that you stay safe and healthy as temperatures rise.
As CNN reported on July 18, over 130 million people in the United States reside in areas under a heat advisory, warning, or watch. The heat wave extends throughout much of the East Coast and the Midwest, and is expected to last Thursday through Saturday, the National Weather Service reported. Many major cities throughout these regions, including New York, Chicago, Washington, D.C., Cleveland, and St. Louis, will be impacted by the extreme weather, CNN noted.
Heat waves can put people's lives and health at risk, with the New York Times noting that 108 people died from extreme heat in the United States in 2018. By comparison, the paper added, 30 people died from cold exposure. In an interview with the outlet, Richard Bann, a meteorologist for the National Weather Service Weather Prediction Center, emphasized the particular dangers heat waves pose. "The combination of heat and humidity can take its toll on someone who is outside and overdoing it," Bann said to the paper. "It can be life-threatening."
As the National Weather Service explained on its website, heat waves can contribute to dangerous heat-related illnesses that"generally have to do with a reduction or collapse of the body's ability to shed heat by circulatory changes and sweating, or a chemical (salt) imbalance caused by too much sweating." The outlet added that "when heat gain exceeds the level the body can remove ... the temperature of the body's inner core begins to rise and heat-related illness may develop."
Because of the risks involved, it's important that people take measures to protect themselves and their loved ones during the heat wave. If you live in an area expected to endure soaring temperatures over the next few days, these tips below might help.