How To Watch The Second-Generation Villain Saga Continue In 'Descendants 2'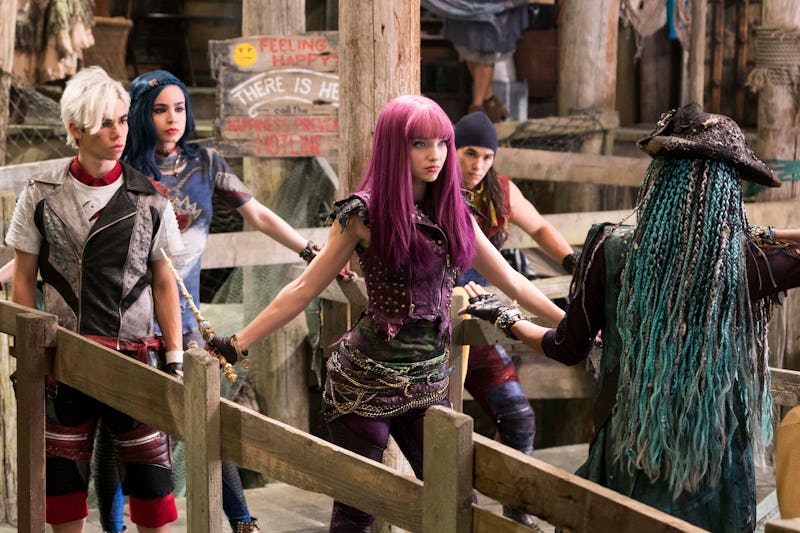 Disney Channel/David Bukach
If you'd told me 10 years ago that Disney would produce a full-length movie musical about the punk-rock children of movie villains and that it would actually be popular, I would… well, actually, I was a huge Kingdom Hearts fan back in the day, so I probably would have believed you. But still, I don't think anybody was prepared for how big Descendants would be when it hit the Disney Channel in 2015. And its sequel is poised to completely take over the TV landscape when it premieres on July 21. So where will Descendants 2 stream online?
The better question is, where won't it be available? As reported by CNBC, Descendants 2 won't just air on the Disney Channel this time around. At 8 p.m. ET on July 21, the movie will also be cross-aired on ABC, Disney XD, Freeform, and Lifetime. This means that Descendants 2 will also be available to stream on the apps for all those different channels starting at 10 p.m. ET, and will also be available on demand via the Disney Channel, ABC, and Lifetime the next day on July 22. (All requiring a cable subscription.) If you have a Sling, you can catch a glimpse of those villainous teenagers as the movie airs. Or you can check to see if your cable provider has an app that allows you to watch on your device.
The first Descendants movie introduced audiences to Dove Cameron, Sofia Carson, Booboo Stewart, and Cameron Boyce, who play Mal (Maleficent's daughter), Evie (the Evil Queen's daughter), Jay (Jafar's son), and Carlos (Cruella de Vil's son), four misfits from the Isle of the Lost who were invited to attend Aurodon Prep — aka, the high school for the kids of Disney princesses. In the sequel, Mal's feeling a lot of pressure in her new Aurodon life and flees back to her home, only for things to get hairy when Ursula's daughter Uma shows up.
Mal returning to her evil roots isn't that far-fetched, given that the final shot of the first Descendants showed her flashing her neon green eyes at the camera in a Thriller-style twist ending.
"It was a bookend," director Kenny Ortega told TVLine after the first movie premiered. "We begin with Mal welcoming us into her story, and Mal's story isn't over — there's a bigger story. Whether we get to do a sequel or not, that's in the hands of the audience, but Mal's story is definitely bigger."
Luckily, that audience delivered a sequel opportunity right into Ortega's lap by making Descendants the the fifth most-watched cable TV movie of all time, according to Forbes. Now that the franchise is back for more (not including the tie-in novels and the animated spin-off) , it's clear that Descendants is basically the new High School Musical — but with a decidedly Disney twist. Fingers crossed that its inevitable third movie gets a theatrical release, too!