You Still Have Time To Marathon Every 'Sharknado' Movie Before The Series Ends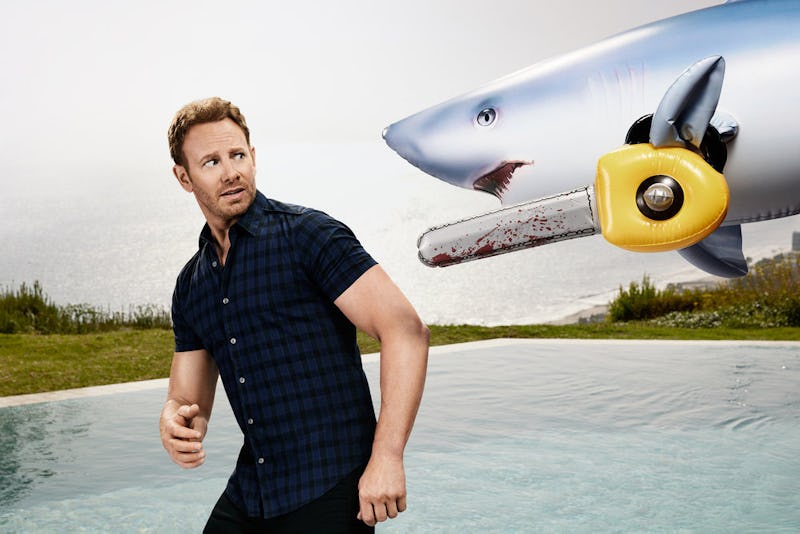 Justin Stephens/Syfy
The time has fin-ally come to say goodbye to the jaws-ome TV movie series that is Sharknado. Since its debut in 2013, fans of cheesy jokes and flying sharks have been tuning in to see Ian Ziering and Tara Reid tackle the toothy sea creatures in LA, New York, D.C., Las Vegas, and around the world. Now the sharks will need to be defeated in the past, present, and future with the time-traveling sixth and final installment coming to SyFy on Aug. 19. But the fin-tastic fun never really has to stop, because you can stream all the Sharknado movies online and keep those sharks swirling forever.
You may even want to marathon the first five before the final chapter, just because you can. Not because you've forgotten the plotlines, because those are super easy to pick back up on. But here's a mini refresher anyway, just in case.
In Sharknado, a toothy tornado hits Los Angeles — thank goodness for surfer and bar-owner Fin who, alongside his waitress Nova, tracks down his estranged family to keep them safe from sharks. Unrealistic shark moments include: Nova getting swallowed whole by a great white but emerging just fine later when Fin jumps into the shark's mouth midair and slices it open with a chainsaw.
In Sharknado 2: The Second One, a bunch of celebrity cameos cement the movie series as, like, super popular, and TWO sharknadoes emerge in New York City. Nova isn't in this movie, but Tara Reid's character April gets a chainsaw hand, so that's cool.
Sharknado 3: Oh Hell No! takes the sharknadoes to Washington D.C. where Game of Thrones author George R. R. Martin makes a cameo instead of continuing to write the next GoT installment. He gets eaten by a shark during a screening of a marriage-themed movie. Red wedding indeed. Also, April was seemingly left for dead at the end of the film with fans having the option to kill her or let her live using the hashtags #AprilLives or #AprilDies. Peak social media.
Sharknado: The 4th Awakens came in hot with that Star Wars parody title and moved the locale to Las Vegas. It also introduced a fire-nade, oil-nado, and cow-nado, because why not? Oh, and April lived, sorta, as a cyborg.
Then came last year's Sharknado 5: Global Swarming which took the sharknadoes beyond America's borders and around the world. Now, for the sixth movie, which is titled, The Last Sharknado: It's About Time, the series will close with a bang. According to the synopsis, it's giving viewers time travel, dinosaurs, knights, cowboys, and more. Go big or go home, right?
If you want to re-watch these cinematic masterpieces, you can stream all five installments on Netflix, Amazon (only the first one is on Prime, the rest are available to rent in HD for $3.99), iTunes (for around $4 each), and Vudu (for $2.99 each).
With all these streaming options, the Sharknado franchise can keep swimming forever on your TV screens even after it says its fin-al goodbye.