How You Can Watch James Comey's Testimony Online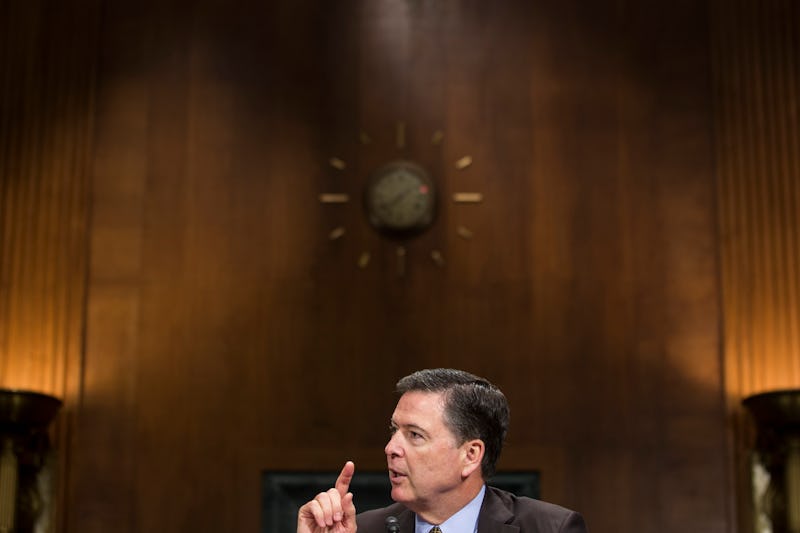 Zach Gibson/Getty Images News/Getty Images
On Thursday, former FBI Director James Comey will testify before the Senate Intelligence Committee regarding the FBI's investigation into potential Russian interference in the U.S. presidential election. Many people are eagerly awaiting Comey's testimony, considering the controversy surrounding his firing by Donald Trump. If you are similarly interested in watching, you can easily stream Comey's testimony online in addition to watching it on television.
As many recall, Trump recently unceremoniously fired Comey as FBI director. As director, Comey had been investigating allegations of ties between the Trump campaign and Russia. Following his firing, Comey alleged in a memo that, in the past, Trump had asked him to halt his investigation of former National Security Advisor Michael Flynn. Flynn had resigned in February after it was revealed that he allegedly misled Vice President Mike Pence about his interactions with the Russian ambassador to the United States. If true, Trump asking Comey to halt his investigation of Flynn could constitute obstruction of justice, a federal crime. Trump has strongly denied ever asking Comey such a question.
Considering the hugely controversial information that emerged after Comey's firing, many are very curious to see what the former FBI director has to say. According to the Los Angeles Times, Comey will likely directly address whether or not he has found any evidence of Trump campaign ties to Russia thus far. He will also likely discuss whether or not Trump provided him with specific directives in regards to investigating Flynn. However, Comey will refuse to answer any questions that could interfere with the current special counsel investigation into the Trump campaign's alleged Russia ties that is being spearheaded by Robert Mueller.
Comey's public testimony will begin at 10 a.m. EST on Thursday, June 8. If you wish to watch the former FBI Director's testimony online, there are myriad ways to stream the event. CBSN, PBS News Hour, and C-SPAN are all live streaming the event on their respective websites. Furthermore, the Los Angeles Times is live streaming Comey's testimony on Facebook. You should also be sure to check out Twitter during Comey's testimony, as it will likely be very insightful to read people's live commentary during the hearing.
In addition to streaming online, you can also watch Comey's testimony directly on television. ABC and CBS have both indicated that they will interrupt their daytime programming to cover Comey's testimony live.
Comey's testimony to the Senate Intelligence Committee is certainly attracting a lot of attention and, indeed, could have long-lasting implications, depending on what is revealed. If you are able, make sure to take some time to watch this exceedingly important Committee hearing.