You Don't Want To Skip The Miss Universe Pageant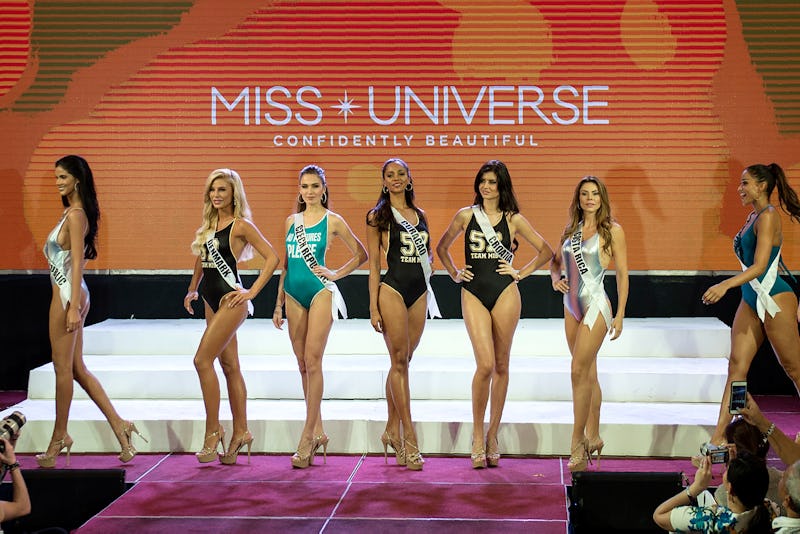 NOEL CELIS/AFP/Getty Images
There are a multitude of reasons to watch the 2017 Miss Universe competition. Some like getting a look at the fashion that each country chooses to represent their nation, others enjoy seeing strong, confident women showcase their intellect and abilities. Maybe you're just curious to see if Steve Harvey will mess up the announcement of the winner like he did for last year's ceremony. If you're hoping to catch the 2017 ceremony, you can tune in to FOX on Sunday, Jan. 29 at 7:00 p.m. ET. You may fear that could be unable to see it if you're without a TV, but fret not! There are ways that you can stream the 2017 Miss Universe ceremony.
You don't need a TV to see the action, but many of the ways to stream still require a subscription of some kind – either an actual television subscription itself or another service that is dedicated to broadcasting FOX and other network channels over the internet. You're required to shell out a few dollars for the subscription, but if you're already paying for one of these services, you'll be happy to find that streaming the Miss Universe ceremony is easier than ever.
FOX Live
The FOX website has a section of their website dedicated exclusively to housing a livestream of their primetime programming. The livestream itself is only active for a few hours each day, but will be including the Miss Universe paegent. The FOX website explains that "this includes content airing Monday-Friday from 8 p.m. to 10 p.m. ... and Sundays 7 p.m. to 10 p.m." which means the Sunday livestream will become available right when the ceremony broadcast begins. To access the livestream you'll need TV provider login credentials from a company such as Xfinity or Time Warner cable.
FOXNOW app
If you're not interested in watching on a laptop, the FOXNOW app allows for livestreaming on mobile devices, or direct-to-tv streaming devices such as Chromecast and Apple TV. However, you must have the same credentials as you would if you wanted to watch the ceremony on Fox.com's livestream. On the bright side, FOXNOW should also have the ceremony the day after it has aired according FOX's website. If you don't mind waiting until the next day, "All Primetime FOX shows will be available for on demand streaming shortly after midnight PT the day after it airs."
SlingTV
If you're not tied down to a cable company and don't want to attach yourself just to watch the Miss Universe pageant, there's still an option for you. SlingTV works like a Netflix for live TV, with a monthly subscription getting you access to various network and cable channels without a contract. SlingTV carries FOX, but it may only be available in certain metro areas. It's best to check the SlingTV website to see if you have access to FoX before putting down the $25 a month needed for a Sling subscription, but if you've got a hankering for streaming live TV it may be a good investment.
The Miss Universe pageant is many different things to many different people, and thankfully FOX has different avenues to watch the pageant. While it'll be difficult to replicate a moment as shocking or surprising as Steve Harvey's flub, there are sure to be plenty of great, flub-less moments worth watching when the Miss Universe pageant airs on Sunday, Jan. 29 at 7:00 p.m. ET.