Here's How To Stream The AMAs So You Don't Miss A Single Outfit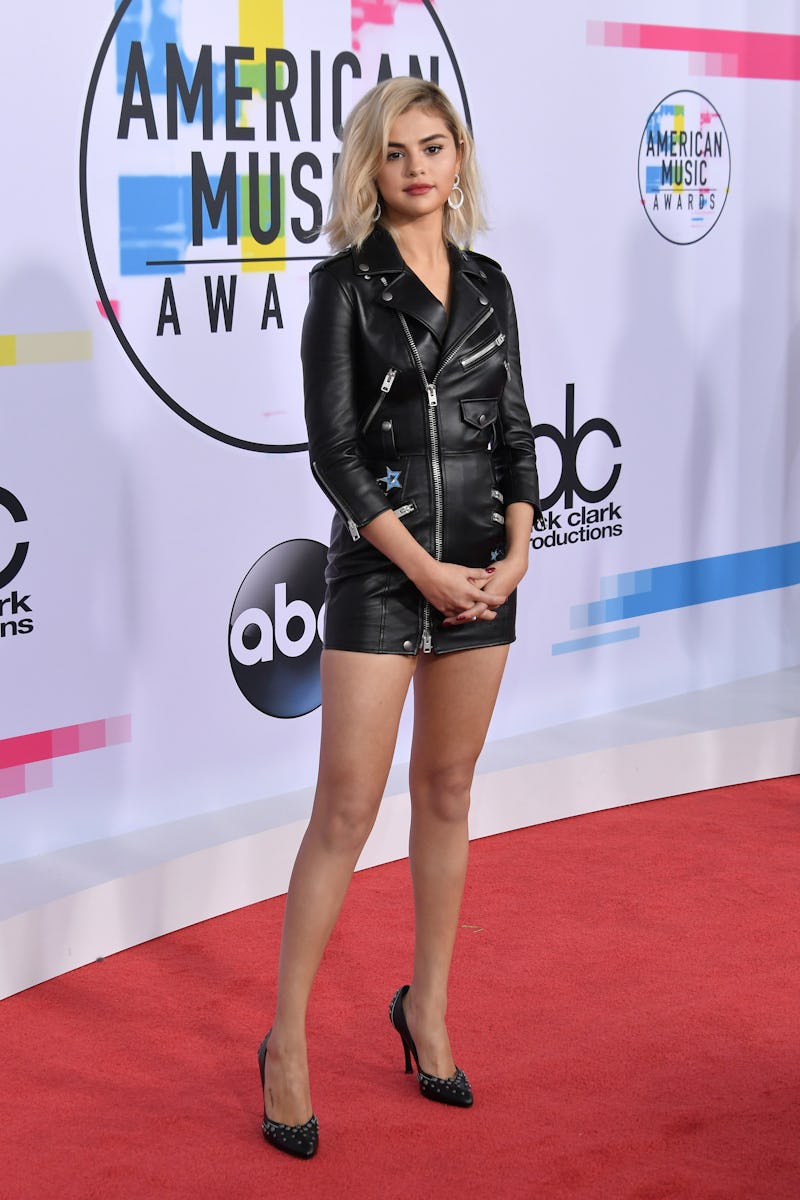 Neilson Barnard/Getty Images Entertainment/Getty Images
The American Music Awards are happening earlier than usual this year. The 46th annual AMAs take place Tuesday, Oct. 9. They air at 8 p.m. ET/5 p.m. PT on ABC. If you aren't able to watch the ceremony and performances, you can stream the 2018 AMAs red carpet exclusively via the AMAs YouTube channel. That way, you won't miss a moment of the fashion fun. The stream is also totally free.
The two-hour, 2018 AMAs red carpet pre-show begins at 6 p.m. ET/3 p.m. PT and airs from the Microsoft Theater in L.A.
Will Taylor Swift actually walk the carpet before her show-opening performance? She could veritably skip it in order to focus on performing. But then again, she's such a pro that she might still make the red carpet rounds. How about breakout star and one-to-watch Cardi B? What sort of high fashion heat will Jennifer Lopez bring to the red carpet since she will also be performing? Based on the fashion track records of those three celebs alone, this red carpet is gonna be good — provided none of them nix it, of course.
Jessie James Decker, Erika Jayne, Scott Evans, and more will host the show the red carpet pre-show, giving you several more reasons to tune in besides the clothes.
Of course you will likely want to tune in to the show itself. That way, you can see what T. Swift rocks when she kickstarts the event, what Cardi B slays when she takes the stage, and how many head-turning outfits host Tracee Ellis Ross changes in and out of during the actual broadcast.
But if you only have the time and/or energy to commit to one element of the AMAs, it should be the red carpet. There will be so much style awesomeness and celebs and artists strutting their stuff — from presenters to nominees.
In terms of fashion, the AMAs are often a bit looser than the Grammys, which are usually black tie and couture with some exceptions here and there. The AMAs are not quite as fancy and can be more fun. They aren't as low-key glamsual as, say, the VMAs, either. But the AMAs allow artists, A-listers, and other celebs to show off their dressy side in an edgier way. Case in point: Selena Gomez's zippered LLBD aka leather little black dress at the 2017 AMAs.
Remember when Swift wore this beaded mini? She showed off legs for days and the straight hair x bangs combo was a winner in 2010
She also wore a gold, belted, and metallic mini in 2013.
J. Lo rocked this strappy, mint green gown last year. Those cutouts, though.
Ross, who always looks fabulous, is returning as host for the second year in a row.
Another way to enjoy the fashion and beauty choices of the AMAs is to check the Instagram feeds of your fave stars. They often posts images while getting their hair and makeup did and show off the products they used to achieve said looks.
But if you want to see the end result and the full execution, then you need to stream the red carpet show.
While it might seem strange for the AMAs to happen before Halloween when they usually take place before Thanksgiving, enjoy soaking up all that sartorial swagger.