Here's How To Stream The 'All American' Soundtrack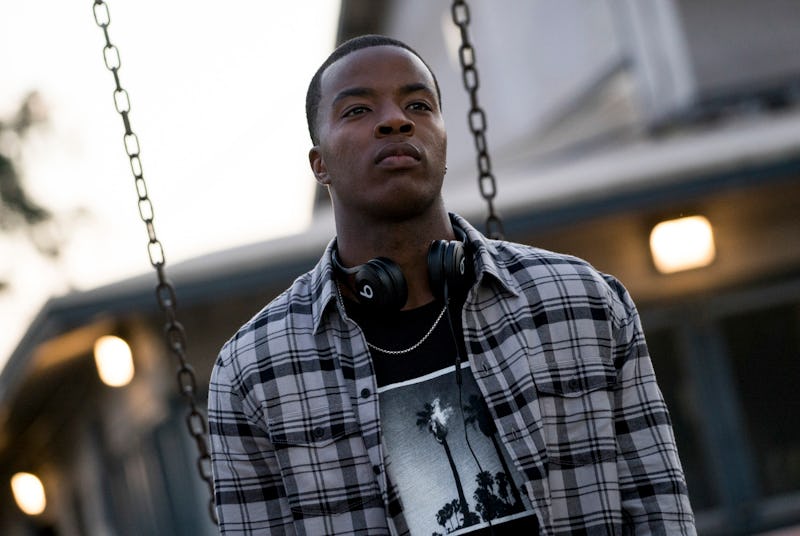 Jesse Giddings/The CW
The CW knows a thing or two when it comes to setting teen and family dramas to the absolutely perfect soundtrack. The Upper East Side wouldn't have seemed half as luxe if the cast of Gossip Girl didn't run around to the sounds of Oppenheimer, the Pierces, and the Kooks. Nor would Stars Hollow have seemed worth visiting without Gilmore Girls' folksy, eccentric troubador tunes. Now, there's All American, whose soundtrack is too catchy not to want to give a re-listen.
Lucky for fans, the entire All American soundtrack is already available on Spotify. You'll have to have a subscription for premium if you want to actually choose the songs you listen to, otherwise you can just blindly shuffle through the set. Pro Tip: If you haven't started following the CW on Spotify yet in general, you should definitely add them to your list so that you can stay on top of the newest music from all the shows you're already watching — or maybe even discover a new one worth tuning into.
Neither Amazon nor Apple Music have an option to listen to the official music from All American yet, but that might change, especially if the show decides to release an official soundtrack album for purchase.
The All American soundtrack list includes a blend of newer hits like "My Drug" from Romen Jewels, along with older classics like The Killers' "Mr. Brightside." It features such household names as Kendrick Lamar, Imagine Dragons, Foster the People, Jimmy Eat World, alt-J, and SZA, as well as lesser known artists like Ghost Channels and Alleko, for which this might just be their big break.
Surprisingly, Spotify's soundtrack list doesn't feature anything from rapper-turned-actor Bre-Z, who plays Spencer's best friend and cousin, Coop. Bre-Z also appeared as Freda Gatz on Empire, where she was able to contribute multiple songs to the show's soundtrack. In an interview with Glamour, Jessica Radloff asked Bre-Z if she thought she'd ever get the chance to sing on All American. "I think it's only right," she replied. "So I'm excited. I think so."
Bre-Z went on to say that for her, music is an even more honest art form than acting. "On TV people perceive me to be a particular type of person," she explained. "People get so invested in these [characters] they don't actually know who I am. But my music is a chance for me to say, 'This is me.'"
Bre-Z isn't the only musical artist that could potentially contribute to the future All American soundtrack, either. Taye Diggs, who plays Coach Billy Baker, also has some pipes. A seasoned Broadway vet, Diggs appeared in the original 1996 version of Rent, and then reprised his role for the film version nine years later. Showtunes don't really seem to fit in with the sound of All American so far, so that definitely won't happen (nor should it), but the cast of the show it does go to show how stacked this show is with talent.