The 'Freaky Friday' Soundtrack Will Make You So Nostalgic For The DCOMs Of Yesterday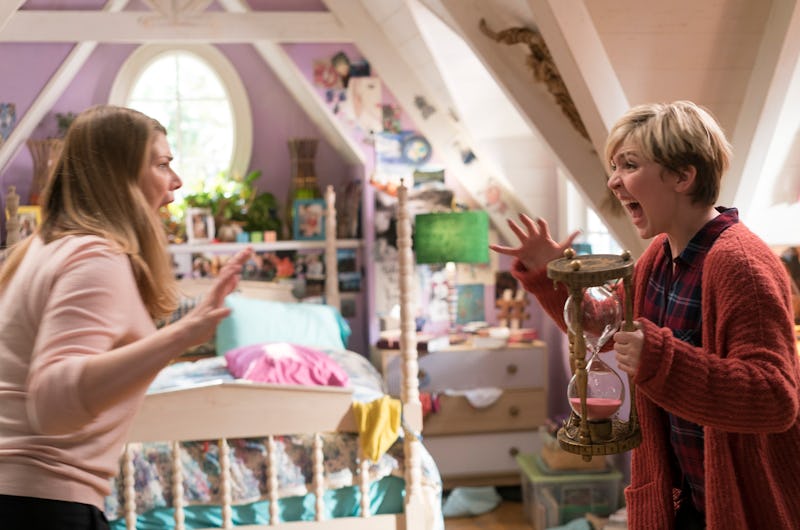 ABC
It's been a book, two feature films, a stage show, a DCOM, and now it's a musical movie. A Disney Channel Original Movie adapted from the Disney Theatrical Production's stage version of the chaotic mother-daughter body swap comedy, Freaky Friday, premieres on Aug. 10. And although neither Jamie Lee Curtis nor Lindsay Lohan will make appearances in the most precious of early 2000s garb, there will be music, and lots of it. So if show tunes are your go-to jam on your daily commute, you're in luck, because you can stream the new Freaky Friday soundtrack a few different ways.
To reiterate, this rendition of the story that's rooted in the 1972 novel by Mary Rodgers is indeed, a movie adaptation of the stage musical. According to Playbill, "The musical debuted in October 2016 at Virginia's Signature Theatre ... [and] subsequently played La Jolla Playhouse, Cleveland Playhouse, and Houston's Alley Theatre." And while the official movie soundtrack is pending release by Disney and arriving on services on the premiere date of the TV movie, you can listen to the stage version's score, which makes up most of the movie's soundtrack. To make matters even better, Heidi Blickenstaff, who plays frustrated mother Katherine Blake in the new movie version, also portrayed her on stage. So in that realm, the musical cast album and the movie soundtrack won't differ all that much.
According to Oh My Disney, the movie cast performs eight of the 20 original songs from the musical's score, written by Tom Kitt and Brian Yorkey, along with two brand new original songs, one of which is co-written by Cozi Zuehlsdorff, who plays the teenage Ellie Blake on screen. Five of the eight songs featured from the musical score, per Oh My Disney, are "'Just One Day,' a duet by Katherine and Ellie about the distance they feel between each other, 'I Got This,' to kick off Katherine and Ellie's wild day in each other's shoes, 'Oh Biology,' a song about being a teenager, [and] 'Go!' an ensemble number during 'The Hunt.'" "At Last It's Me" is one of the new songs debuting with the movie, and it's performed by Zuehlsdorff. Fans will have to wait until its release to discover the song list in its entirety.
Of course, the film will teach yet another generation the importance of listening and understanding in a parent-teenager relationship. But this version is different in that it will highlight bold theatrical talent on and off screen.
"This movie is a creative collaboration with our [Disney] Theatrical colleagues who developed an original stage musical from a beloved story," Adam Bonnett, executive vice president of Original Programming at Disney Channel, said of Freaky Friday in a Disney ABC press release. "Now we've added a fresh twist by adapting it again into a movie for kids and families — with Broadway talent on and off camera — that has the potential to be a classic DCOM for years to come."
To listen to all 20 of the Broadway musical's original score in preparation for the movie's premiere, and for meeting TV's newest iconic mother-daughter duo, you can stream the cast album of the musical on Spotify, Amazon, Apple Music, or YouTube, and be reminded that "being an adult is super un-fun."