You Don't HAVE To Watch 'The Sinner' Season 1 Before Season 2 Starts, But You SHOULD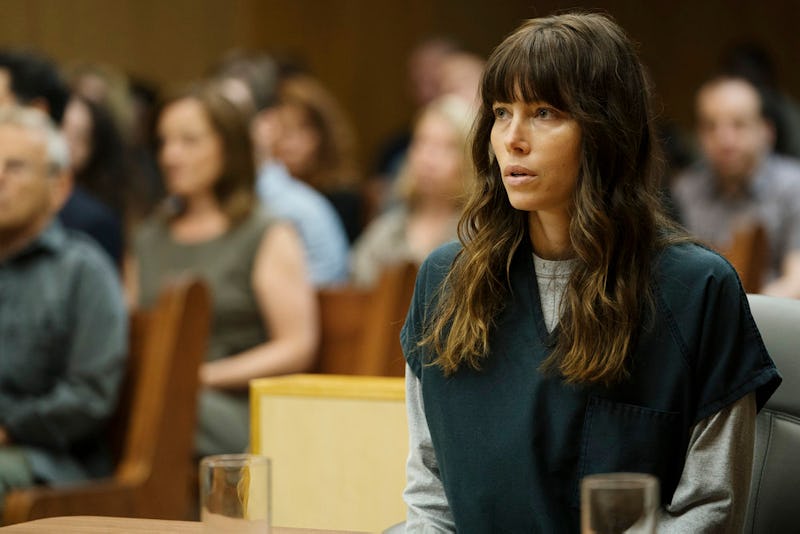 Peter Kramer/USA Network
If you're a big fan of murder mysteries, then odds are you've probably at least heard about USA Network's hit thriller The Sinner, which centered around Jessica Biel's character, Cora, who killed a total stranger at the beach for what seemed like no reason in Season 1. But as details of her past begin to unravel, potential motives start to bubble to the surface. It was an intriguing case from start to finish, and Season 2 is about to debut on Aug. 1. So it's a great time to catch up by streaming The Sinner Season 1, whether it's to refresh your memories on what you've already seen or to watch the show for the very first time.
Thankfully, this is one series that isn't too difficult to track down and marathon your way through in a day or two. Not only is it available for those who have an official USA Network account, but you can stream all eight episodes on Netflix as well. And just in case you're wondering if the show is really worth your time, it may interest you to know that The New York Times listed The Sinner as being one of the best shows to stream in July. Considering that the total number of TV shows on the streaming service right now is upwards of 1,569, according to Flixable, a third-party search engine for Netflix, that's a pretty impressive feat for The Sinner to achieve.
According to a feature for USA Network, this show became Biel's passion project after she fell in love with Petra Hammesfahr's German novel upon which the series is based. Though as much as Biel was featured in the first season, but in front of and behind the screen, she has confirmed that she will not be returning to reprise the role of Cora in Season 2.
"We did talk a lot about does Cora come back for Season 2 and what is the relationship because that's what was interesting to me," Biel said at a recent Emmy For Your Consideration event, according to IndieWire. She went on to say:
"What happens when a woman goes through that? What is life like after that when the only person really in her life that she can connect with, even besides her husband, is the detective who got her out of this thing? But we just couldn't do it this particular season."
The good news for fans of the original is that Biel is still an executive producer on the show, so if an opportunity for Cora to come back ever reveals itself, she'll be around to make it happen in a potential third or even fourth season. In the meantime, Season 2 will star Bill Pullman as Harry Ambrose, the detective who worked on Cora's case, as well as newcomer Carrie Coon, who will portray a woman named Vera. Her character is described by Entertainment Weekly as being "a formidable, mysterious woman who struggles between upholding the ideals of the community she leads and fulfilling her own desires."
For the most part, it looks like Season 2 will serve as its own standalone story, meaning you don't necessarily need to have watched Season 1 in order to enjoy Season 2. But given how good the first season was and the fact that it's so readily available on Netflix, there's also really no excuse not to. Perhaps not watching The Sinner would be the greatest sin of all.