Doing *This* Before Bed Can Strengthen Your Bond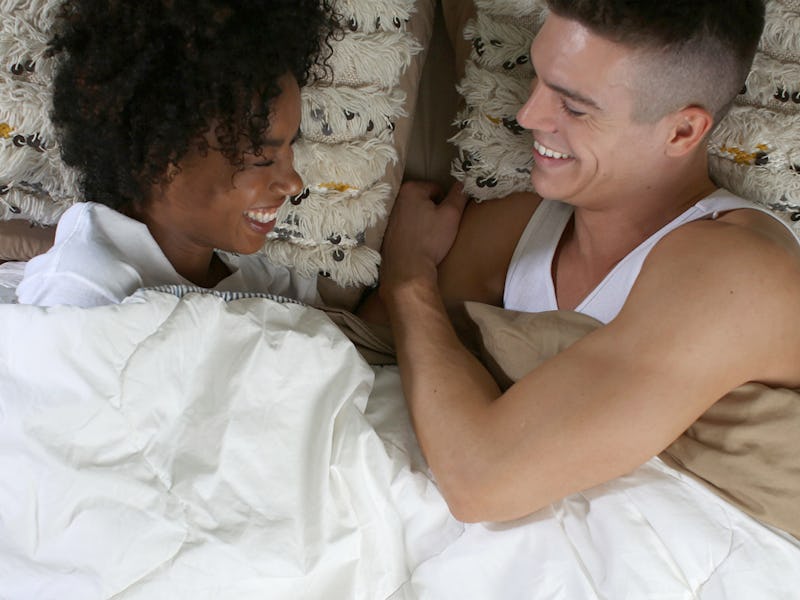 Ashley Bat for Bustle
The easiest way to strengthen your relationship before bed? Simply talk to your partner. According to a new study that was presented at the 2017 Society for Personality and Social Psychology Annual Convention, couples who share good news with each other before they go to sleep found an increase in intimacy and a deepening of their relationship bond. As an added bonus, positively communicating with your partner can even help you sleep better at night.
Social psychologist Sarah Arpin, from Gonzaga University and colleagues studied the relationships of 162 post-9/11 military couples in Oregon as part of a larger research project on veterans. For this portion of their research, married and cohabiting couples were asked to complete daily online surveys for 32 days, answering questions about the best things that happened to them each day, whether or not they shared that information with their partner, and how that information was received. Individuals were also asked to rate their levels of loneliness, intimacy with their partner, and how well they slept.
They found that when people shared good news with their partner and received positive feedback, they were able to fall asleep faster and sleep better than on days when they felt like their partners didn't really care. Individuals also felt less lonely and much closer to their partners when they felt like their partners were being responsive. That of course, led to a better night's rest.
"Talking to your partner each night is such an important part of building intimacy, promoting feelings of safety, mutual respect, and feeing understood and 'heard' by your partner," licensed psychologist Marni Amsellem, Ph.D. tells Bustle. "It is hard for intimacy to be genuine and to evolve if both partners are not sharing parts of themselves with their partners, more often than not."
Amsellem says talking every night doesn't have to include lengthy, deep dialogues. "The message should be communicated that if [they] want to talk, you are there for them," Amsellem says. "Alternately, if there is something that you would like to share and want your partner to know, share."
So here are some things you can do before bed to increase intimacy and strengthen your bond with your partner: