How To Succeed At Everything, According To Chrissy Teigen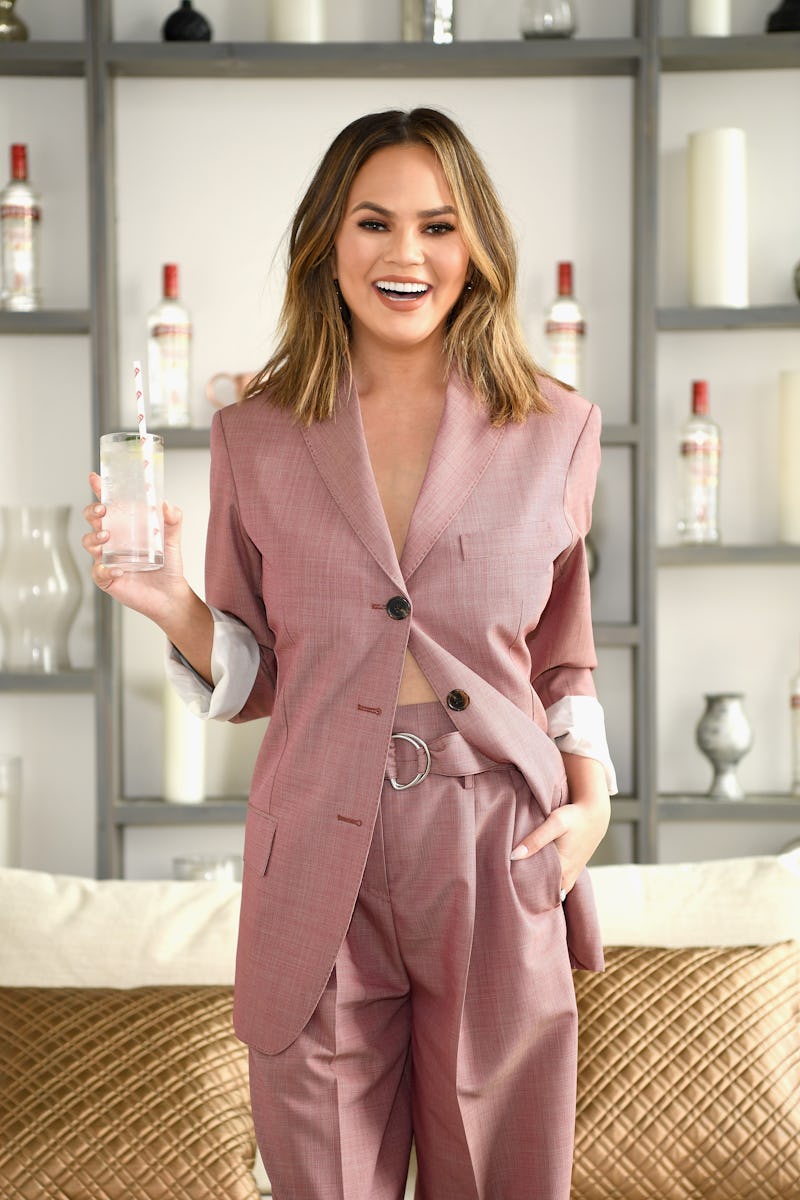 Dave Kotinsky/Getty Images Entertainment/Getty Images
Depending on who you are and when you found out about her, the reason you know who Chrissy Teigen is could differ greatly. She's a swimsuit model. She's one of the hosts of Lip Sync Battle. She's a cookbook author. She's a hilarious social media presence. She's sometimes makes meme-worthy faces while watching her husband, John Legend, onstage at award shows. Unlike most celebrities who can be more easily defined as "actor" or "singer," the 31-year-old has an ever-growing career that consists of many different jobs. But for her, as long as she's passionate about something, it's fair game — and she suggests the same for anyone else who doesn't want to be pinned down.
"Just pick what you love and everything else will kind of fall into place, because you're not going to grow into loving something any more than you already do," she says when we speak at Smirnoff Vodka's Cocktails with Chrissy event in New York City on Thursday. (She recently took on yet another job by partnering with the brand). "If you're not already excited about it, you're not going to be more excited about it six months from now. Be OK with saying no — that's a big thing. And be OK with taking your time."
Considering her huge platform (5 million followers on Twitter; 12 million on Instagram), Teigen's constantly being thrown new ideas. This means that there are quite a lot of options to wade through, and also that she has a lot of experience with making tough decisions and turning things down.
"People want you to have a makeup line. People want you to have a clothing line. 'We want you do have this, that' — it's easy to get that stuff," she says. "But it's not easy to be passionate about it all and it's not easy to really be proud of it all at the same time."
Those of us who have much less public career paths might not be getting pitched our own makeup lines every day, but there's still something to be learned from the way Teigen has handled her career and said "no" to projects that don't show off her real interests. For instance, while she's known for wearing swimsuits in Sports Illustrated, she never felt the need to make an inauthentic shift to high fashion.
"I never wanted to do an editorial that was high fashion with me jumping in, like, a power suit. I was like, listen, I'm a swimsuit model. I like modeling. But I don't really necessarily care about being this high fashion power model," she says while making poses reminiscent of Tyra Banks' suggestions on ANTM. "I just felt silly doing it and I'm so glad that I didn't do it."
Teigen wasn't always comfortable making those decisions, though.
"Oh god, I said yes to everything. For some reason around 22, 23, I started feeling really comfortable with saying no, just because I started realizing everybody else is really comfortable with saying no and everybody else is really comfortable with asking the world of you," she says. "And I wasn't benefitting ever from saying 'yes.' It's not like I would get more out of it, they would win ... It just became a thing where it's not fair anymore and I wanted to start getting what I wanted."
Teigen's career is far from typical in both its range and the fact that most of us will never have our every tweet covered by multiple news outlets. But the way that she's navigated things and chosen to emphasize her passions, is something anyone can learn from. You might not get to turn down the opportunity to have a clothing line, but you sure as hell can decide to start one.