8 Ways To Support Homeless Shelters In Chicago That Are Keeping People Safe From The Cold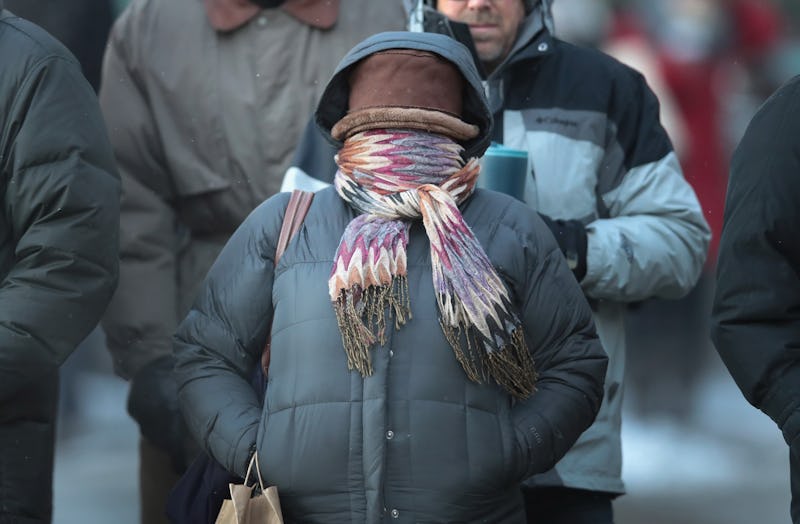 Scott Olson/Getty Images News/Getty Images
Since Monday, a dangerously cold polar vortex has gripped massive swaths of the Midwest, including Chicago. Meteorologists have urged people to stay inside their homes, avoid traveling, and keep winter survival kits nearby in the case of an emergency. For homeless individuals who don't have their own place to take refuge in, this weather can pose an even bigger threat. But there are ways you can help homeless shelters in Chicago.
According to CNN weather analysts Brandon Miller and Judson Jones, a polar vortex packs multiple and extremely cold winds, originating in the Arctic region. These winds typically circulate in their northern home but when distorted, which happened in this case, the winds change their direction. Weather experts predict that this particular polar vortex will last until Thursday evening.
In the meantime, homeless shelters are trying their best to help those who don't have a place to stay. In Chicago, where temperatures are as low as some 20 degrees below zero, the city's biggest homeless shelter, Pacific Garden Mission, suspended its policy of taking in long-term visitors and opened its doors to at least 800 people on Tuesday night. The shelter's president, Philip Kwiatkowski, told The Chicago Sun-Times, "There's no restrictions right now. We're letting everybody in."
As the cold continues to engulf Chicago, there are a few ways to help shelters in need of items, money, volunteers, and more.