7 Organizations You Can Donate To Right Now To Help Hurricane Harvey Victims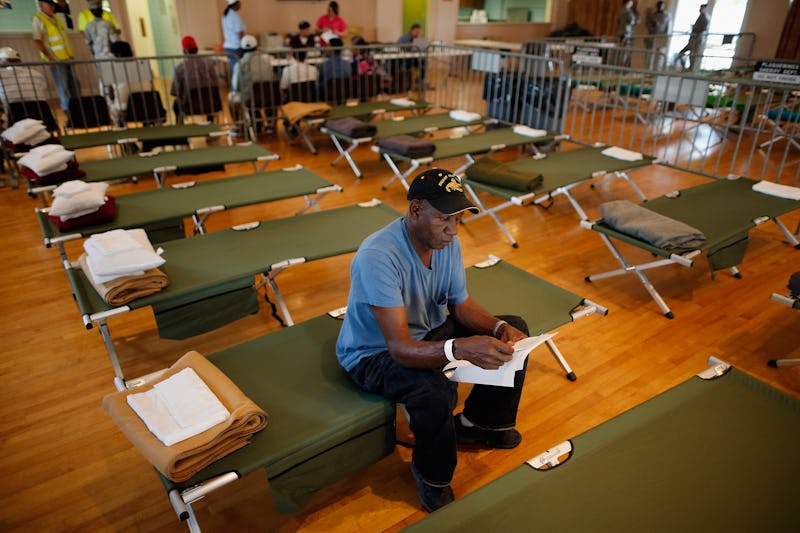 Chris Graythen/Getty Images News/Getty Images
If you're following the hurricane barreling through Texas, you might be wondering which aid organizations you can donate to to help Hurricane Harvey victims. Hurricane Harvey made landfall on the Texas coast on Friday night, bringing with it what the National Weather Service called "life-threatening and catastrophic heavy rainfall," heavy winds, and a storm surge that could lead to massive flooding in cities like Houston, Galveston, and Corpus Christi.
Already, areas in East Texas are facing one of the worst natural disasters to affect the region in years. Hundreds of thousands of Texans have already lost power, and numerous parts of the Texas coast were evacuated before the storm. The storm is expected to be on similar scale as (or possibly worse than) Hurricane Ike in 2008, which dealt nearly $30 billion of damage to the Texas shoreline.
The Texas government has mobilized to help victims of the storm, declaring a state of disaster preemptively to send aid to the area and help people evacuate. Texas Governor Greg Abbott referred to the situation as one of "ongoing danger." And the Federal Emergency Management Agency is prepared to step in to aid state and local agencies in helping people affected by the storm.
But in addition to the government, here are 7 other organizations you can donate to right now to help those affected by the storm:
1. American Red Cross
One of the largest and oldest aid organizations in America, the American Red Cross has sent volunteers and emergency response vehicles to the Gulf Coast, providing those affected with food, medical supplies, and shelter. Donate your money here.
2. Salvation Army
The Salvation Army is sending supplies to help deal with Harvey's aftermath, including food, water and shelter supplies. The organization is setting up mobile kitchens to help feed those displaced by the storm, and even mobile laundry units for those who won't be able to access their homes for days. Donate your money here.
3. Catholic Charities USA
In addition to providing emergency services in the wake of a hurricane, the Catholic Charities USA network provides counseling in the aftermath to those affected. Donate your money here.
4. Direct Relief
Diret Relief aided with preparing homes and building to brace for the storm, and has been providing emergency supplies and health kits to those affected. Donate your money here.
5. Team Rubicon
Team Rubicon, a non-profit that deploys military veterans to disaster areas, has more than 3,700 volunteers in Texas for the storm, ready to aid with emergency services and supplies. Donate your money here.
6. Samaritan's Purse
Samaritan's Purse is an evangelical Christian organization led by pastor Franklin Graham. They are sending tractor-trailers to the Texas coast to help house people displaced by the storm. Donate your money here.
7. Convoy of Hope
Convoy of hope is sending trucks full of supplies and volunteers to the region, ready to help those in need. Donate your money here.
The gulf coast is expecting the worst. The impact of these organizations could be the difference between life and death for hundreds or even thousands affected by the storm. And with rain expected for days, these organizations will continue to need more aid.