How To Support John Lewis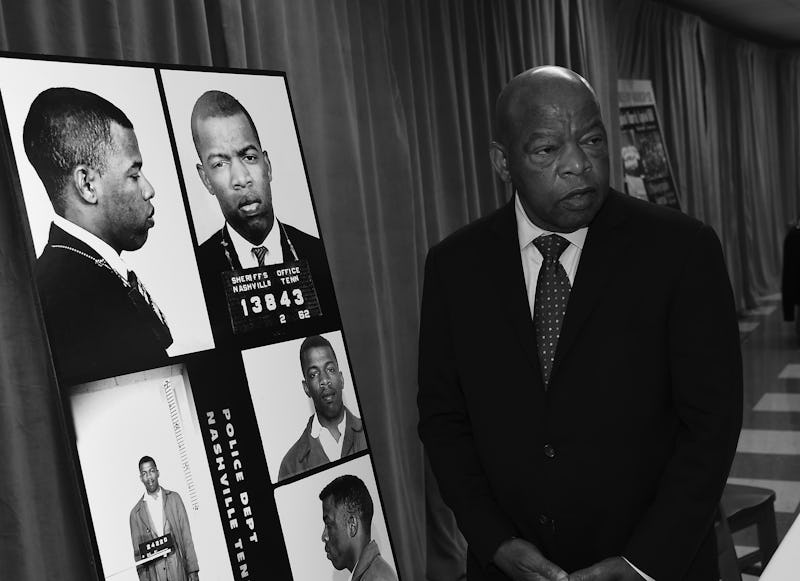 Rick Diamond/Getty Images Entertainment/Getty Images
The president-elect has certainly chosen a strange time to fight with one of the nation's greatest civil rights activists. After Rep. John Lewis announced that he won't attend the inauguration, telling reporters he doesn't see Trump as "a legitimate president," given Russian involvement in the election, Trump — predictably — pounced. "Congressman John Lewis should spend more time fixing and helping his district, which is in horrible shape and falling apart," Trump wrote in the first of several tweets, which also criticized Lewis as "all talk" and "no action or results."
PolitiFact rated Trump's claim about Lewis's district as "mostly false," but Trump's comments about Lewis himself were even more ridiculous. They were also tone-deaf, given that Monday is Martin Luther King Jr. Day, a holiday which commemorates the achievements of Dr. King and the civil rights leaders with whom he worked.
Congressman Lewis is a longtime voting rights activist whose commitment has led him to protest even while being physically attacked. In 1965, Lewis had his skull fractured by police officers — and led the other marchers back to a church before seeking medical attention for himself. Trump's comments were so out of keeping with Lewis' life of activism that some on Twitter speculated that Trump didn't realize who Lewis was before he posted the tweets.
If you want to honor civil rights activists on Martin Luther King Jr. Day, here's how you can show your support for John Lewis.
Join a March or Protest Group This Weekend
Skipping the inauguration doesn't mean you should sleep in this weekend. Lewis' lifelong commitment to nonviolent protest can be honored by adapting those principles to current political issues. Join the Women's March on Washington (or a related march in another city). Protest to save the Affordable Care Act. Or find another political issue about which you are passionate and go out and demonstrate for it. Large, national protests force a dialogue about these issues that even the president-elect cannot ignore.
Donate to a Civil Rights Group
Decades after the assassination of Dr. King, new voting laws make it increasingly difficult for people of color to cast their ballots. Help protest this by donating to groups like the Southern Poverty Law Center and the American Civil Liberties Union, which seek to preserve the Voting Rights Act as it was originally intended.
Don't Watch the Inauguration Live
Since his days as a reality television host, it has always been clear that Donald Trump cares deeply about ratings. His insistence that he doesn't even want celebrities performing at his inauguration and that all the ballgowns in D.C. are sold out demonstrate his insecurity about the event. Since Trump is also likely to cite the inauguration's ratings for years to come as evidence of support, take a stand by watching something else as Trump is sworn in.
Call Your Representatives About Jeff Sessions
Attorney general nominee Jeff Sessions has worked in Southern politics for decades. Dr. King's wife, Coretta Scott King, wrote a letter in the 1980s imploring Congress to keep Sessions out of a federal judgeship:
Mr. Sessions has used the awesome powers of his office in a shabby attempt to intimidate and frighten elderly black voters. For this reprehensible conduct, he should not be rewarded with a federal judgeship.
Learn more about why many civil rights activists oppose Senator Sessions, who once said that the Voting Rights Act was "a piece of intrusive legislation," and then call your representative to protest Sessions.
Learn About the History of the Civil Rights Movement
Read one of John Lewis's memoirs about his time fighting for civil rights, visit a local museum, watch a documentary or a movie like Selma, or ask someone in your community who lived through it firsthand. Educate yourself about how people viewed leaders like Dr. King then, and challenge your own assumptions about protest movements that are active today.
Learn About What Perpetuates Racial Inequality Today
The work begun by Dr. King and Congressman Lewis is far from over. The best way to work on these problems is to understand them at the policy level, so watch a documentary or start reading a book about the causes of racial inequality in society today. For example, Ava DuVernay's documentary 13th examines racism in the criminal justice system, and is available free on Netflix.
Get Ready for a Long Fight
After the inauguration, it will be tempting to give up protesting Donald Trump, to accept with resignation the loss of healthcare, and to exist primarily on the hope that 2018 or 2020 will bring something different. This is not enough. Get comfortable calling your representatives — particularly if you disagree with them — and make those calls. Seek out marches and protests for causes you care about. The best and most lasting way to honor Dr. King and to support Representative Lewis is to make political involvement and activism a part of your everyday life.