How To Support Women Who Can't Take Off On 3/8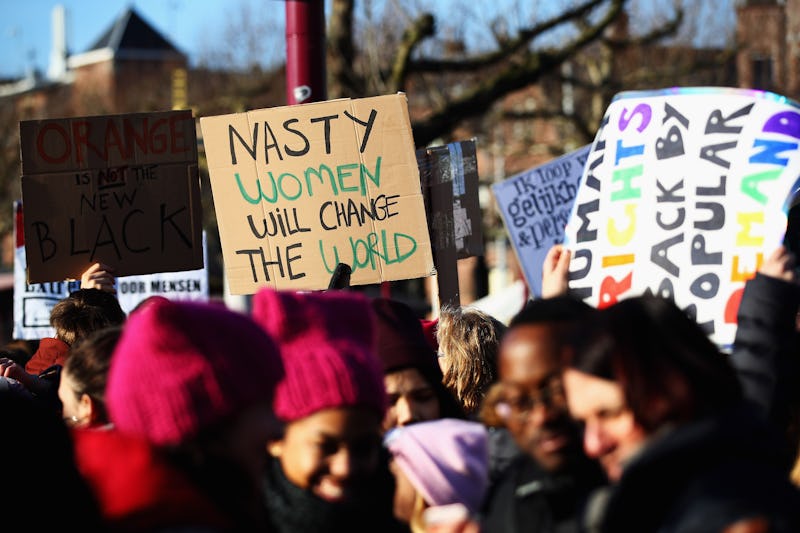 Dean Mouhtaropoulos/Getty Images News/Getty Images
March 8, 2017, this year's International Women's Day, is also the date of the "A Day Without A Woman" strike, which was put together by the organizers of the Women's March on Washington. It's a day when women are encouraged to take the day off, from paid and unpaid labor, avoid shopping except at small business run by women and minorities, and are encouraged to wear red to mark themselves as allies.
If you supported the Women's March, the idea is to continue along the same lines. The Women's March website explains:
"In the same spirit of love and liberation that inspired the Women's March, we join together in making March 8th A Day Without a Woman, recognizing the enormous value that women of all backgrounds add to our socio-economic system — while receiving lower wages and experiencing greater inequities, vulnerability to discrimination, sexual harassment, and job insecurity. We recognize that trans and gender nonconforming people face heightened levels of discrimination, social oppression and political targeting. We believe in gender justice."
I think it's a great way to show the huge impact of women everywhere. But we need to remember that not every woman who isn't participating is unsupportive of the cause. Some women can't, just can't, take the day off. Whether it's for fear of being punished or they're just not being able to afford it, we need to remember not everyone is able to participate. So here's what you can do for them.