7 Subtle Signs You May Be Making Someone Uncomfortable, Based On Their Body Language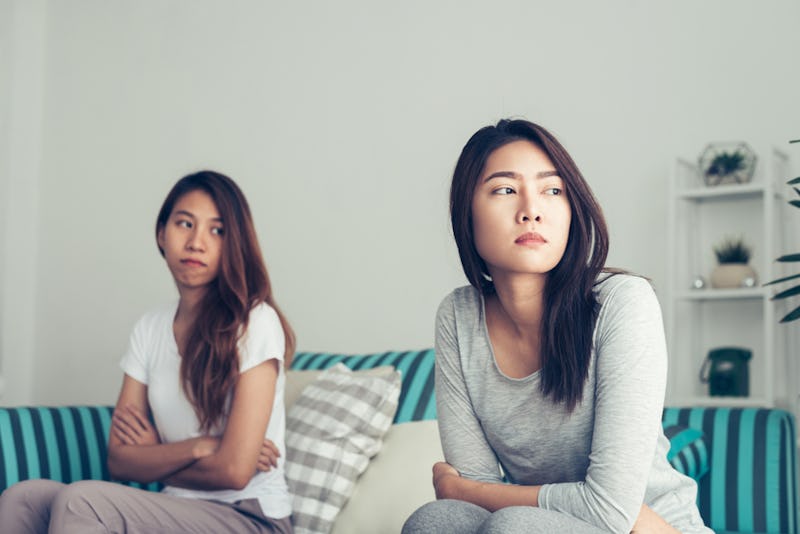 Tirachard Kumtanom/Shutterstock
If you're talking to someone about a sensitive subject, you probably instinctively know to watch out for signs that they're uncomfortable with the conversation. But you don't always know what topics could upset someone, so it's useful to understand body language cues that you may be making someone uncomfortable. If you're ever in doubt about whether someone is feeling safe and relaxed while spending time with you, it never hurts to ask them. Knowing what to watch for can be helpful for knowing when to pause and consider how things are going, according to experts.
It's definitely important to keep in mind that body language alone can't always tell the whole story about how someone's feeling about you in a situation. "There are so many things that you need to 'listen' to in order to really ascertain how someone feels," Karen Siff Exkorn, a body language expert and speech and media coach, tells Bustle. For example, in addition to listening to what someone is saying, you could also watch out for the pitch of their voice, their tone, and even how loudly they're talking. "Also, be aware of their emotional state," she says. "For example, when someone is feeling stressed or depressed and they are trying to share something intimate, their body language may not be reflective of their intended message."
Here are some body language cues that someone may be feeling uncomfortable, according to experts.