How To Track The Bomb Cyclone, Because It's Gonna Be Powerful As Hell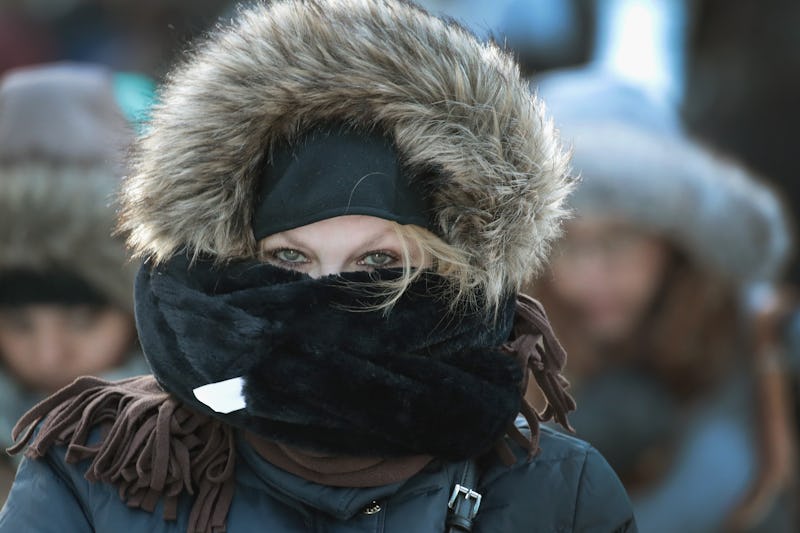 Scott Olson/Getty Images News/Getty Images
This week, a massive winter storm is expected to plunge the east coast of the United States into freezing temperatures and blizzard-like conditions. Officially named Winter Storm Grayson, it's also being described as a "bomb cyclone," and it's already bringing frigid weather to the southeast ― the state of Florida, in fact, is actually seeing snow. So, to keep prepared and safe, here's how to track the bomb cyclone.
The storm's curious moniker is thanks to the process of "bombogenesis" that's fueling its northward surge along the eastern seaboard. The terminology is less important, however, than the impact it could have; according to CNN, 11 people have already died due to the winter storm conditions, making this absolutely no laughing matter.
Fortunately, if you're living somewhere in or near the affected regions of the east coast, you can keep track of the storm's progress by way of the National Weather Service. A government agency tasked with keeping the public informed about adverse weather events, the NWS's official website provides regular and useful updates about the projected path and impacts of the cyclone. If you're more in the mood to stay apprised via a news outlet, on the other hand, The Weather Channel is providing frequent and timely updates on the storm, and you can check in regularly on its website.
As it stands now, the bomb cyclone is projected to make its way north along the east coast over the next couple of days, ultimately arriving in New England sometime on Thursday. Along the way, the coasts of Florida, Georgia, South Carolina, North Carolina, Virginia, New Jersey, and New York are expected to be struck by ice, snow, and heavy winds.
According to CNN, by the time the storm makes it to New England, it could bring anywhere from six inches to a foot of snow, as well as wind speeds between 40 and 60 miles per hour. The news outlet has its own page with running updates on the cyclone, which is another resource you can use to stay informed and on top of things.
CNN further reports that a staggering 25 percent of the U.S. population will experienced temperatures below zero throughout the week, while 80 percent will experience temperatures below freezing ― in other words, below 32 degrees Fahrenheit. In short, in terms of wind, snow, sleet, and freezing temperatures, Winter Storm Grayson does not seem to be fooling around.
The phrase "bomb cyclone," as the NWS detailed on Wednesday, comes into play when the phenomenon known as "bombogenesis" has occurred. This happens when air pressure decreases rapidly, by an amount greater than or equal to 24 millibars in less than 24 hours. According to a meteorologist interviewed by Newsday on Wednesday, Chris Stachelski, the air pressure amid Winter Storm Grayson is expected to drop by 30 millibars over a 24 hour period, qualifying it for that dramatic label.
The words bomb cyclone alone don't tell the whole story, however. Although it's undeniably a dramatic and worrisome turn of phrase, the storm will fall short of the wind speeds needed to qualify as a hurricane on the Saffir-Simpson scale. To be specific, a storm must possess wind speeds in excess of 73 miles per hour to be classified as a Category 1 hurricane, while CNN reports that Winter Storm Grayson is likely to hit its upper limits at around 60 miles per hour.
That said, whatever the description, it figures to be a major meteorological event, so if you're anywhere near the affected regions of the eastern seaboard, please be sure to take any and all precautions to ensure your safety.