How You Can Track Winter Storm Stella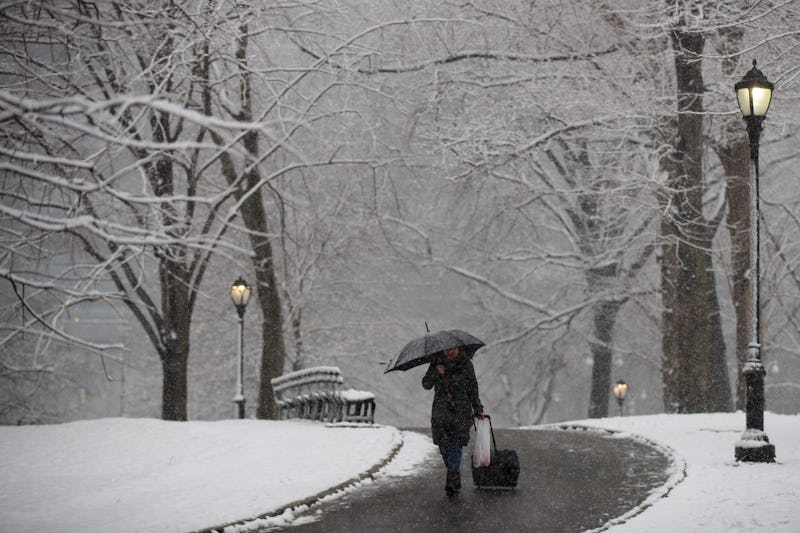 Drew Angerer/Getty Images News/Getty Images
Starting this week, Winter Storm Stella is expected to bring a significant amount of snow to the Northeast, and the Midwest can expect some snow as well. USA Today has reported that blizzard warnings affecting more than 19 million people have been issued in New York City, as well as parts of northern New Jersey and southern Connecticut. The first half of Tuesday will likely see the heaviest amount of snow, according to The Weather Channel, and the areas with the heaviest snowfall could accumulate up to 18 inches of snow. To track Winter Storm Stella, follow the Weather Channel's frequent updates.
According to The Weather Channel's live Twitter updates, Stella is currently moving across the Midwest, where it will deposit between 5 to 8 inches of snow before proceeding east. Parts of the south have reportedly been dusted with some snow as well, and at least 1 to 3 inches of snow can be expected as far south as Washington, D.C. Charlotte, North Carolina has already received over an inch of snow, and Columbia, South Carolina, experienced March snowfall for only the 17th time since 1888.
If forecasts hold true, Stella could become New York City's first big March snowstorm — "big" meaning a foot or more of snow — since 1960. Philadelphia is also preparing for the storm, as it is poised to receive between 8 and 14 inches of snowfall. Chicago, meanwhile, received over two inches of snow as of Monday morning, marking the first time since December that the city had more than an inch of snow on the ground. As a result, Chicago's Midway and O'Hare airports have canceled hundreds of flights.
Chicago is not the only city confronted with flight cancelations due to Stella. More than 750 flights were canceled on Monday due to current weather patterns across the Midwest, and almost 1,000 Tuesday flights have also been canceled. Airports in New York, Newark, Boston, and other parts of New England risk cutting off flights on Tuesday and possibly Wednesday.
Tuesday morning and early afternoon look like they will be the worst for the Northeast. Wind and storm advisories have warned people from Maine down to Kentucky about the possibility of power outages and fallen tree branches. Strong winds could also cause coastal flooding from Long Island to Cape Cod on Tuesday, with tides running above average.
Snow in March is not a rarity, but it does certainly put a damper on spring's impending arrival. Make sure to stay up-to-date on all local weather advisories, and follow the Weather Channel and its local channels for more updates.