Pet Trainers Explain How To Train Your Dog To Walk Down The Aisle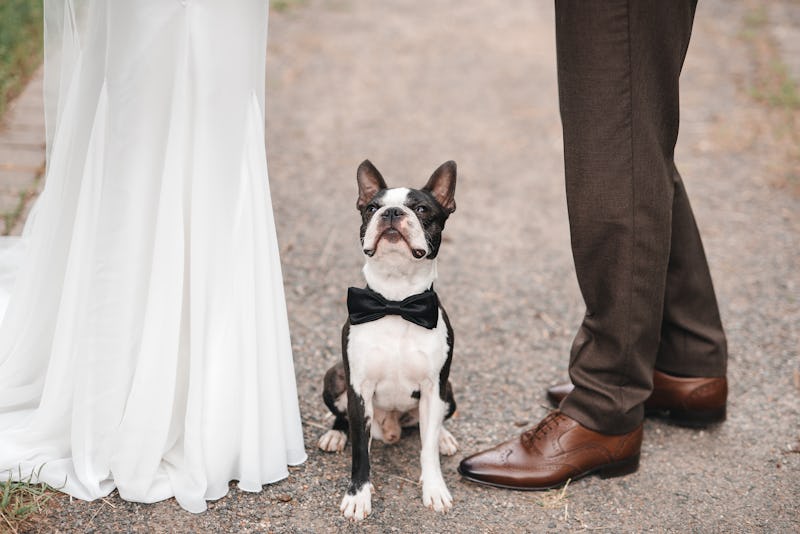 LovelyColorPhoto/Shutterstock
If you've decided that you want your fur baby walking down the aisle with you on your wedding day, you're probably wondering a few things. How do you get them to actually walk calmly? How long will it take you to train them? Is asking a dog to walk slowly in a crowd of people inviting chaos into your ceremony? According to experts, training your dog to walk down the aisle probably isn't as difficult as you think. With a little patience and a lot of treats, you'll soon be able to teach your pooch the skill.
But first, a few warnings for the big day. "Dogs — just like people — tend to have to go to the bathroom when they are nervous," professional dog trainer Steffi Trott, tells Bustle. "You want to absolutely make sure that your dog has gone potty before he enters the church on your wedding day!" You may also want to tell your guests to not reach out their hand and call or pet the dog as they are walking down the aisle to make sure that they can focus on their job, she says. Put one friend or family member in charge of taking your pup outdoors after they have made their way down the aisle so that you don't have to worry about any wiggles or barking during the ceremony.
Don't forget to have fun. No dog is going to be perfectly well behaved, and that's OK. They're lovable because of their excitement, not in spite of it. Here are some steps to take to get your dog walking calmly down the aisle.