How To Travel With Your Pet During The Holidays, According To Vets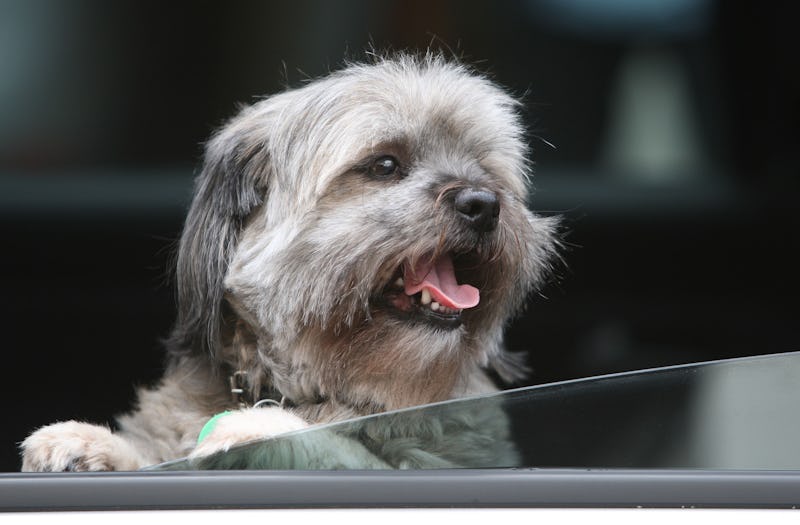 Sandra Mu/Getty Images Entertainment/Getty Images
We may be over the Thanksgiving hump, but the travel madness of the holidaze is hardly over yet. The countdown to the big time winter holidays has begun, and in a few short weeks we'll be back on that wild n' crazy travel grind — this time with holiday gifts in tow. If you have a dog, cat, or other animal, then you know that on top of sorting out your own holiday mess, you also need to consider their needs and figure out the best way to handle traveling with pets for the holidays.
Because I get it: It's hard enough to figure out how to balance getting time off, booking expensive travel arrangements, buying hoards of gifts, and emotionally dealing with your hometown for the holidays — so do everything you can to ensure that worrying about your animal's safety and comfort-level doesn't become a more stressful part of your itinerary. It definitely takes some extra work and planning, but hey, that's what we sign up for when we bring these furry lil' balls of joy into our lives. The holidays should be fun for everyone, and if you take the time to ensure your animal's well-being during a hectic travel schedule, you'll be thankful.
So, do you plan to bring your animal companion with you for the holidays by car or plane? Do you plan to find a trusty sitter and leave your animal at home while you travel? In any scenario, there are precautions that every responsible pet guardian should know before making traveling arrangements for the holidays to make sure their fur babies are safe and sound. Here are some tips on how to travel with pets for the holidays that will make things easier on both you and your animal companion.
Know Your Animal
In truth, some animals probably shouldn't be traveling in the first place. You know your animal best, so keep their temperament and needs in mind. Consider whether taking them on a journey and having them stay somewhere other than their home is actually reasonable. Same applies if you have a particularly crazy travel schedule that just isn't pet-friendly. If that's the case, consider finding a trusted sitter (like a close neighbor, friend, or family member) who can allow you to travel with some peace of mind that your fur baby is being well taken care of and not being stressed by an unreasonable travel schedule.
Packing For Pets
If you are bringing your pet with you during your holiday travels, don't forget that you'll be packing for two! "Pack for your pet as well as yourself if you're going to travel together,' advises Dr. Daniel Edge, DVM, MBA, Director of Veterinary Specialty Operations for Zoetis. "In addition to your pet's food and medications, this includes bringing medical records, information to help identify your pet if it becomes lost, first aid supplies, and other items." You'll also want to make sure you have a securely-locked carrying case for your animal, as they could be in harm's way if they were to escape under the wrong circumstances. Lastly, if you're crossing state lines or international borders during your travels (whether by car or plane), you're also going to need your animal's health certificate, which must be issued by a veterinarian.
Drive Responsibly
If you'll be transporting your animal companion by car, make sure you're checking off all your boxes when it comes to safety, as there are some risks. "Pets should always be safely restrained in vehicles, which means using a secure harness or a carrier, placed in a location clear of airbags," shares Dr. Edge. "This helps protect your pets if you brake or swerve suddenly, or get in an accident; keeps them away from potentially poisonous food or other items you are transporting; prevents them from causing dangerous distractions for the driver; and can prevent small animals from getting trapped in small spaces." We're in cars all the time, so it may not seem obvious, but it's important to be prepared for the unexpected.
Make Road Trip Stops
While you might be a speed demon who's trying to cruise home with as few bathroom breaks as possible, that doesn't mean your animal will feel the same! If you're making a long drive with your furry baby in tow, be sure to take frequent breaks to allow your animal to use the bathroom or have a snack, and keep tabs on your animal's temperature as well as stress/comfort levels. And remember, stay with your animal. "Never leave pets alone in vehicles, even for a short time, regardless of the weather," advises Dr. Edge. Animals can easily reach dangerous temperatures in cars, especially with extreme winter weather.
Keep Stress Levels Low
Keep in mind that traveling, being away from a routine, meeting lots of new people, and/or staying in foreign places can be super stressful for animals (TBH, it's super stressful for me, too!), so keep that in mind and be sensitive to their needs. Bring along lots of toys, blankets, or any other comforting and familiar items from home that can help your animal feel a little more safe and comfy in unusual surroundings. Also, do your best to offer your animal some semblance of a routine, even if you're staying at someone else's house (things like sticking to your usual walk times, feeding times, and play times can be helpful).
Take Extra Precautions If Traveling By Air
Traveling by air isn't always the safest route to take if you're on-the-go with your animal companion. "Talk with your veterinarian if you're traveling by air, since air travel can put pets at risk, especially short-nosed dogs," suggests Dr. Edge. In addition to the potential health risks of being 30,000 feet above the earth, traveling in the cargo hold of a flight can be extremely dangerous for animals — so that should be avoided if at all possible. Apparently U.S. airlines killed, lost, or injured 224 dogs between the years of 2005-2009 alone, according to the Department of Transportation. If you have no choice but to travel by air with your animal, do your best to ensure they can travel with you in the main cabin, and speak to the airline prior to booking your tickets so you're clear on their policies.
Finding Pet-Friendly Accommodations
Traveling includes lodging arrangements, so make sure that wherever you're staying is totally pet-friendly. If you'll be staying in the home of a family member or friend, be sure they've "pet-proofed" their space and are aware of your animal's needs. If there will be many people around, be sure your animal has a safe and quiet space where they won't be stressed and in the middle of the holiday hustle. If you'll be looking for lodging, check out Bring Fido, which lists hundreds of pet-friendly locations in cities around the world, including hotels, parks, restaurants, and more.
Boarding Your Animal
If you're unable to bring your animal with you for the holidays safely, the best thing to do is find a trusted person to pet-sit — but if boarding your animal is the only option, be absolutely certain the space is safe, comfortable, and vetted by visiting it beforehand and asking the right questions. You must also keep their health in mind: "If you are considering boarding your pet during the holiday, it is very important to keep up with your pet's vaccinations and routine shots," explains Dr. Edge. "For example, Kennel Cough is highly contagious, so it's best to make an appointment with your veterinarian prior to boarding to ensure your dog is vaccinated against this and other respiratory diseases such as canine influenza virus. Additionally, ensure your pet is also taking preventive medicine for fleas & ticks, which may be found on other dogs or at the kennel." Taking the extra time to be sure a boarding facility is safe — and that your animal is prepared health-wise — is an absolute must.