Charlotte Tilbury's Dry Sheet Mask Is Innovative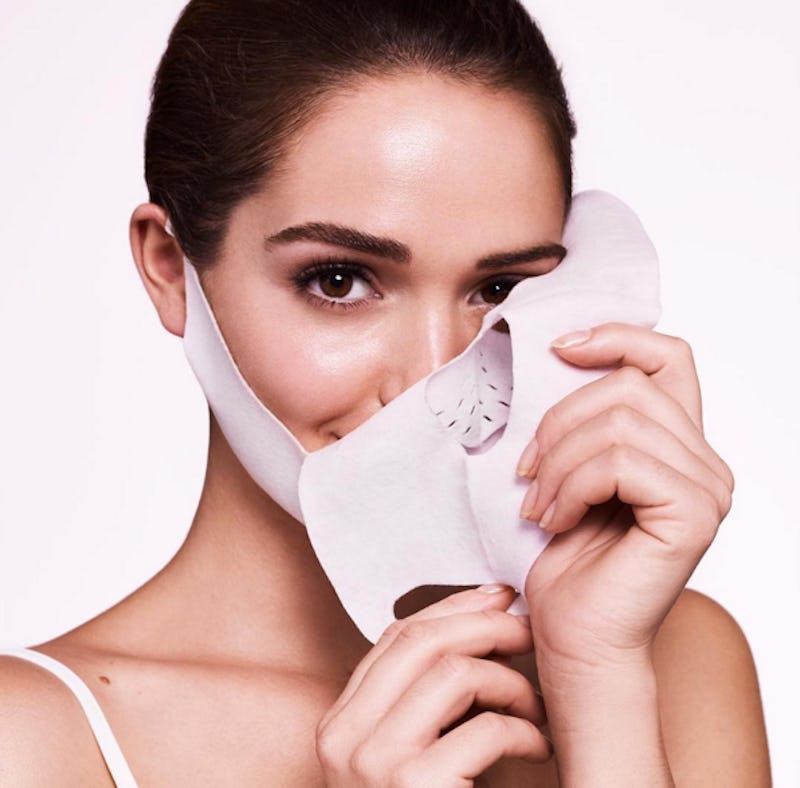 charlottetilbury/Instagram
This brand is changing the way you face mask (and yes, that's a verb — i.e. "What are my plans for the night? Face masking." See how it's done?) Find out how to use Charlotte Tilbury's Instant Magic Facial Dry Sheet Mask so you can skip the clean-up step and get back to online shopping in front of your laptop as soon as you're done.
Where do I even begin with this product? As if the words "instant magic" weren't enough to get excited about, the brand had to go and throw the words "dry sheet mask" in the title. What on earth is a dry sheet mask? That's a very good question. This is dubbed the "mask of the future" in a press release, and honestly, I'd say it's been accurately named.
The latest skincare innovation to come from Charlotte Tilbury can be worn on your face (obviously) in the same way a regular, damp sheet would be worn, except for this one comes with the addition of loops for your ears to help it stay in place. Once you've got it securely fastened, gently massage it to activate the ingredients. According to a press release, it contains "Vitamin B3, Plant Stem Cell Matrix, Crocus Bulb Extract, and peptides along with a combination of magical oils and butters for a glowing, smooth, hydrated complexion." Sounds like the perfect way to complete a Friday night to me!
The press release also states that once you've activated the soothing elements, the item will tailor itself to suit exactly what your skin needs thanks to a built-in 5 Skin Solution IQ. Perhaps the best part of all is that it can be used up to three times, which is way more than the one-time-usage policy of a typical wet sheet mask!
Charlotte Tilbury Instant Magic Facial Dry Sheet Mask, $22, Nordstrom
Wear it for 15 minutes and take it off to reveal bright, smooth and hydrated and lifted skin. One mask retails for $22 or you can get a set of four for $80.
Youth Revealed Face Mask, $120, Nanette de Gaspe
This mask isn't the first of its kind, but it certain is a more affordable option. Nannette de Gaspe offers dry options that can be reused, too, but they'll cost you around $120. They can be stored and used multiple times, so it's a good investment, but if you're wanting to give the whole dry sheet mask thing a try, the Charlotte Tilbury product is also a great place to start.
The Instant Magic Facial Dry Sheet Mask is available to shop on the Charlotte Tilbury website now. Be sure to add it to your cart and upgrade the way you mask for good!