This New Instagram Feature Lets You Keep Stories On Your Profile For As Long As You Want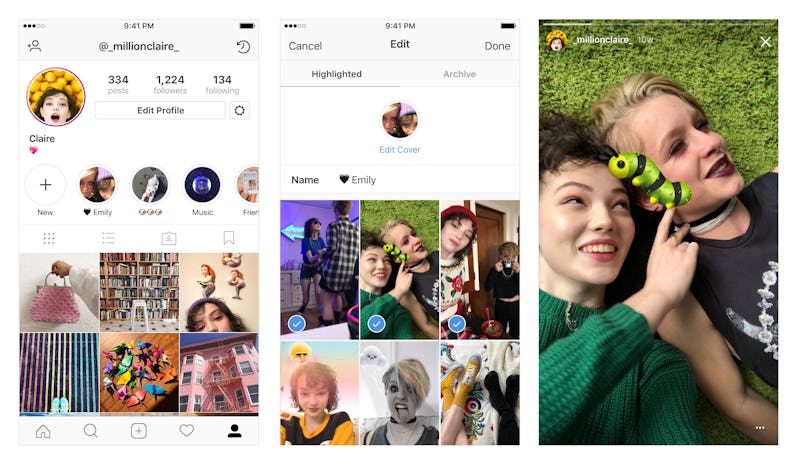 Instagram
While Instagram will likely never give you back your beloved chronological newsfeed, they do keep rolling out features that make this app your go to for posting your favorite snaps. If you've updated to the latest version of Instagram, there's a new feature. Here's how to use Instagram Story Highlights to group and feature past stories and save them as part of your profile, according to details sent to Bustle about Instagram Story Highlights.
While Instagram Story Highlights don't yet support live video, you can feature your other photos and videos in your highlights, which is pretty boss. To get started, go to your Instagram profile where you should see a new "Highlights" section underneath your bio. Tap the first circle that says "New." This will automatically take you to your archived Instagram Stories. Select the archived stories you'd like to group together and feature, and tap "Next."
You'll be directed to give your Story Highlight a name, and Instagram advised that it's best to choose a short name so it's not cut off when others view it. Next, tap "Edit Cover," then at the bottom of the screen tap the image or video you'd like to use as the cover for your Instagram Story Highlight. Then just tap "Done" and "Add" to save the highlight to your profile.
Editing Your Instagram Story Highlights
If you want to edit or delete an Instagram Story Highlight, you can do that too. Simply go to your profile and tap and hold the highlight you want to alter or remove. To delete an Instagram Story Highlight just tap "Delete Highlight." This will remove the highlight from your profile, but deleted stories will still be saved in your archive until you delete them.
If you want to edit one of your Instagram Story Highlights, tap "Edit Highlight." You should see "Highlighted" selected at the top. While in this mode you can change your cover image, edit the name of an Instagram Story Highlight, and change or remove the stories that are in your highlight. When you select "Archive" at the top of the screen you can tap more pieces of media to add them to that highlight. Simply tap "Done" when you're finished choosing the stories from your archive that you want to add.
Access Your Archive To Add To Your Highlight
If you're not sure how to get to your Instagram Story Archive to grab stories to add to your highlights, all you have to do is go to your profile and tap the "Archive" button that looks like a little clock at the top right corner to choose stories or posts from your archive. Tap on any photo or video in your archive to watch or view it.
From here you can select "Share" to share something from your archive as a new story, "Highlight" to add it to an existing highlight on your profile or make a new highlight, or "More" to permanently delete the story from your archive, save a video to your camera roll, or share something from your archive to your Instagram feed. Another added bonus of Instagram Story Highlights is the ability to see the increased viewer count on a highlighted story when you swipe up on that specific highlight.
Update Your App ASAP To Get Story Highlights
Remember that you'll need to update your Instagram app to the latest version in order to see the new Story Highlights feature. Personally, I am super excited this feature is finally here because I hate knowing that stories disappear after 24 hours. Being able to add your best snaps and videos to an Instagram Story Highlight right on your profile means you can decide which stories you want your followers to have access to after they drop off the story feed.
If you have any issues, Instagram recommended uninstalling the Instagram app, then downloading the latest version of the app, then force quitting the app again and reopening it. Ready to try it out? Update your app now and start highlighting.