How To Use Mindfulness To Date Better, According To Experts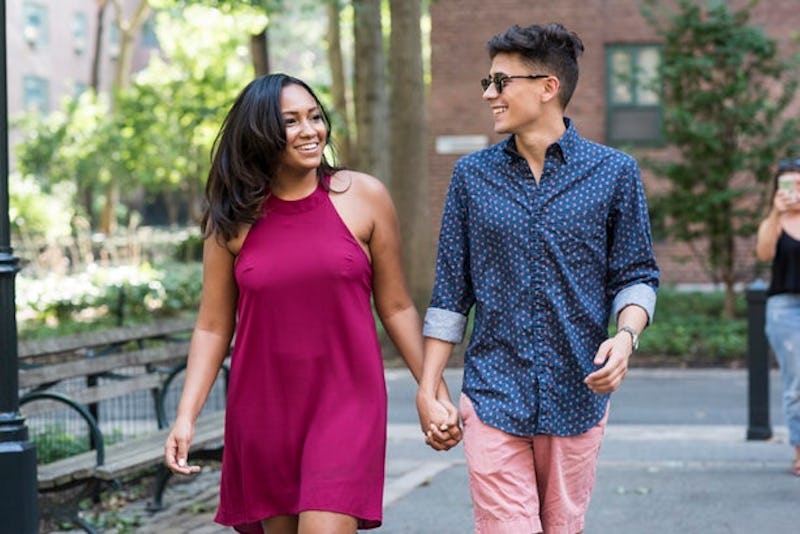 BDG Media, Inc.
If you're single and dating, but completely stressed out and exhausted over what you've had to deal with lately, practicing mindfulness could give your love life a much-needed boost. "Mindfulness is a particular way of paying attention to what's happening in the present moment, with openness, curiosity and without judgment," Jamie Price, Wellness Expert and Co-Founder of mindfulness app, Stop, Breathe & Think. "When you bring the quality of mindfulness to dating, it can open up a world of relationship possibilities."
According to a recent survey collaboration between Stop, Breathe & Think and eHarmony, it was found that online daters who practice mindfulness are over 80 percent more active on dating sites. They were also more open to viewing the profiles of more of their matches and engaged in conversations that were much more open.
Dating mindfully isn't really that complicated nor is it really out there. "Everyone wants to feel connected," Ellie Cobb, Ph.D., Mindfulness and Meditation Teacher tells Bustle. "In fact, research shows that feeling disconnected from others increases risk for depression and other health issues. Conversely, having meaningful relationships is protective against many mental and physical health issues. Therefore, dating presents an important opportunity for connection."
So obviously, it can be really good for you. But what is it really all about?
Dating Mindfully Is All About Being In The Present
It's really as simple as being present, non-judgmental, and just being fully engaged in the dating experience. For many of us millennials, living in the moment and being completely present can be fairly challenging. (Phubbing, anyone?)
"Millennials could greatly benefit by living in the moment and actually seeing the world through their own eyes, instead of seeing through the eyes of a smartphone phone's camera lens," Cindi Sansone-Braff, relationship coach and author of Grant Me a Higher Love tells Bustle. "It's important to experience the here and now in a real and intimate way."
According to Sansone-Braff, mindfulness can also help us get in touch with our higher consciousness, hearts, and souls. "This helps keep our monstrous and narcissistic egos in check," she says. Not that every single one of us has "monstrous" and "narcissistic" egos, but I'm sure many of us could use some time to be a little more self-aware.
How To Date Mindfully
So keeping your phone away is one easy way to do it. But there are other small things you can do.
"Mindful dating is 'conscious' dating," Certified Life, Dating and Relationship Coach, Rosalind Sedacca, CLC, tells Bustle.
Dating mindfully is also about discussing things in an open, comfortable, and candid way before mindlessly moving ahead into intimacy, becoming a couple, moving in together, and other significant steps in a healthy relationship. According to Sedacca, dating mindfully includes:
getting tested for STIs/STDs before having sex;
talking about past relationships in terms of letting go, resentments, insecurities, and emotional scars still affecting you;
talking about forgiving yourself and former partners for relationship wounds and baggage;
sharing the qualities and characteristics most important to you in a partner and learning about their choices;
addressing mutual relationship goals and values for the future with your partner;
making agreements about how to handle conflict, jealousy, scheduling time for one another, other commitments, with an eye toward mutual respect and cooperation.
"It's all about bringing awareness to your behavior and the consequences of your actions and decisions," Sedacca says.
Overall, dating mindfully doesn't have to be anything too difficult. While doing things like meditation can be helpful, it's not necessarily limited to just that. It's all about being self-aware and living in the moment. Who knows? Maybe practicing mindfulness can transform your dating life in ways you never would've imagined.