How To Use Rewind On Instagram Stories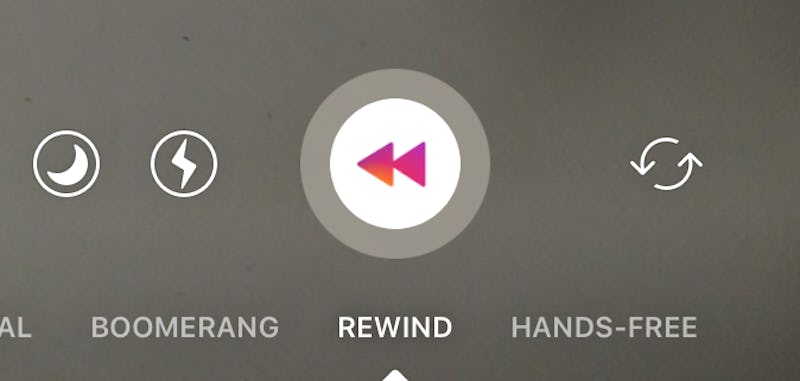 You might have noticed something new on Instagram today. The app has rolled out a slew of updates, including a few new camera bag tricks that you're going to want to spend the whole day playing with. Once you figure out how to use the Rewind feature on Instagram Stories, you're going to realize you're way behind with work because you slipped into an app hole and the day is almost over. But you're not alone — I'm right there with you, lost in Instagram's endless space.
For whatever reason, playing with footage in reverse is really fun. It's super cool to see things become un-wet or un-messy or un-done. To have this type of movie magic software at the tip of our fingers is definitely a game changer for Instagram. This feature used to be the kind of thing that only someone with an understanding of how video editing worked and who had a lot of programs would be able to make little videos like this.
But now, we all can edit videos to look professional, without any prior education or skill set. Which basically means Instagram is about to become a hub of creative content. Aka, no one's missing Vine these days. Here's how to use your new favorite feature:
Head To Stories
Your update should have occurred overnight while you where sleeping and just be readily available for usage when you open the app today. But if you have auto-updates turned off, you'll need to head to the app store and update Instagram before looking for this new feature. Once the update is complete, just head to Stories in the upper left-hand corner as usual.
Select Rewind
You should notice today that there's a new camera option available. Right next to Boomerang and Hands-Free is the new feature: Rewind. All you have to do is select it and you're ready to film. Plus, you don't have to hold your finger down to keep it recording, so you're free to jump in front of the camera.
Film Your Subject
Whether you film yourself pouring and then un-pouring yourself a cup of tea, or making a mess in your room to allow the feature to clean it up, you'll find yourself thinking of good ideas all day and night.
Play For Hours
My dog literally would not move or do anything interesting so this is not a great example of how much cool stuff you can do here. I wanted him to jump onto the couch so it would look like he was being ejected off of it when I played it in reverse. Alas, maybe your dog is more obedient and interesting!