Snapchat Just Released Lenses You Can Use On Your Desktop For Skype, YouTube & More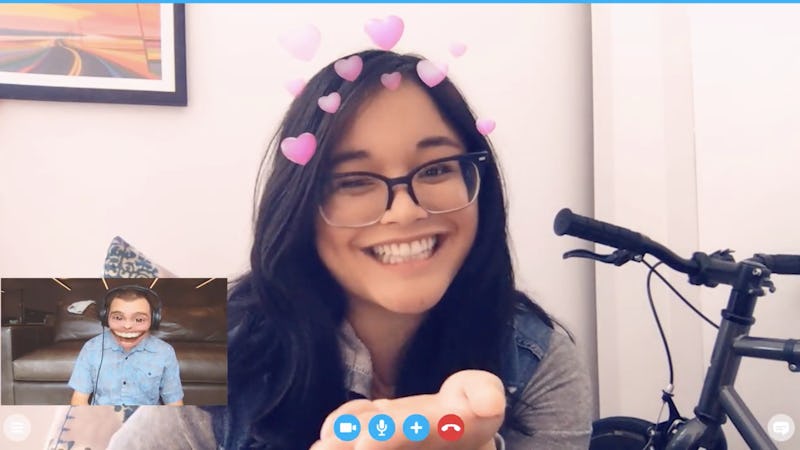 Snapchat
Are you ever Skyping with a loved one from some distance of many moons and many miles away and thinking to yourself, "Wow, this conversation would be vastly improved if we were both having it with AR dog ears hovering over our heads?" Well, my friend, I come bearing good tidings: Snapchat's latest tool, Snap Camera, lets you use Snap lenses on desktop computers, so you can take advantage of the app's notorious AR filters during Skype conversations, YouTube videos, Google Hangouts, and more.
First and foremost, let this serve as a warning to every offsite millennial workplace that every single one of us is about to start showing up to conference calls puking Snapchat rainbows, which is a desire that up until this moment in my life I never even knew to dare to dream about. But this also means that you can use Snap lenses on all kinds of third-party platforms, taking them far beyond the realm out Snapchat and out into the real world — now there's virtually no screen that you can't transform yourself into a sparkly goth on.
But how exactly do you take advantage of this new tech? It runs separately from your beloved Snapchat app, so here's a breakdown of what you'll have to do to get yourself desktop-enabled. Tally-ho!
First, Download Snap Camera
In order to take advantage of the new tool, you have to download it from the Snap Camera website, here. It will prompt you to agree to the terms, and then download Snap Camera for a Mac or a PC and install.
Close Out Of Your Active Video & Streaming Apps
Once it's installed, close out of all your active video or streaming apps; Snap Camera will prompt you to do this, too. That way when you relaunch them, the Snap Camera will integrate itself into its camera settings, so you can go ahead and use it on whatever platform it is you're using video for.
Choose A Filter/Regret Your Decision To Wear A Beanie To Work
If the installation is successful, the Snap Camera should open, and you should see your face through your computer's camera, along with rows of thousands of Snap lenses you can morph your face with. (For what it is worth, downloading the lenses on my desktop took a few minutes, so be patient!) (For what it is also worth, it is cold today and I do not apologize for the adult woman Jughead cosplay!)
Test It On Other Applications
From here, your Snap camera should automatically integrate with other video-based services on your desktop like Skype and YouTube. Here's a video that will give you some idea of what to expect from the new tool.
It gets even cooler from there: on the lefthand side of the Snap Camera is a star, so you can "favorite" your preferred lenses as a shortcut; if you hit the tool button the righthand side, it will lead you to a Settings page where you can customize your own lens. And for anyone who's wondering, you don't have to have Snapchat or be an active user to take advantage of the new tool. Happy Snapping, y'all!