Instagram's New Superzoom Feature Will Make Your Stories Even More Hilarious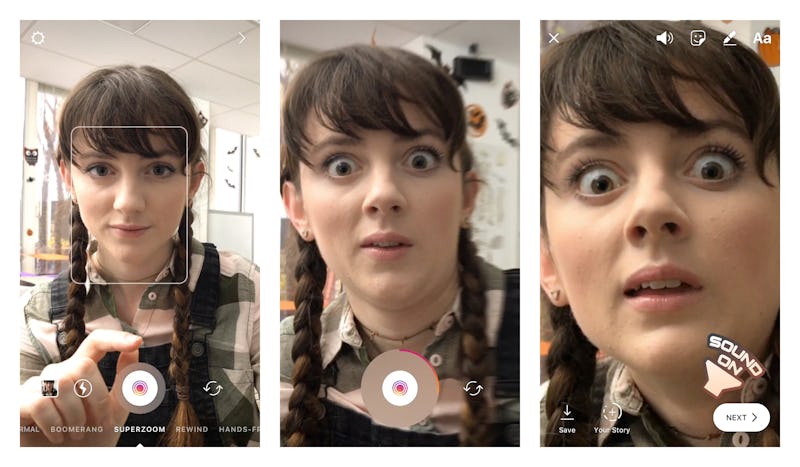 Instagram
Just like a fine wine and the stinkiest of cheeses (aka most delicious), it seems that Instagram only gets better over time. With every update comes a new set of tools designed to make you look like a great photographer, a casually flawless-skinned specimen, a koala bear (thank you, face filters), or even all of the above. The newest update, which came out Oct. 26 at 1 p.m. EST, is no exception: Superzoom. As a result, you're probably itching to learn how to use Instagram's new Superzoom feature, which is going to add a dramatic and often hilarious element to your videos.
Here's the deal with Superzoom: it's basically the Boomerang of zooming. (Say that five times fast.) Within Instagram's camera function, you can now select Superzoom mode. From there, you can tap and hold to record (as you would a normal Insta video) or tap once to record a three-second Superzoom. Moments like the one you see below, once contained to exaggerated still screenshots adjusted after the fact, can now be captured in all their moving glory. Here's a quick explanation of how to use it:
First, Swipe Into Your Instagram Camera, And Select The Superzoom Feature
Easy enough. You do this every day!
Record Whatever You Want
It can be your face, it can be an object on your desk, it can be your pet — whatever. Just record it, and let Superzoom do the rest — including adding a dramatic musical clip. Then, just post it as you would a normal story!
See what I mean? Totally simple. When you get to watch that zoom process as it happens, it's pure poetry in motion. Adding to that poetry is a dramatic musical clip. Think of it as a combo between the climactic score of a horror movie ("Don't go in the basement! We know how this ends!") and the songs you composed as a kid by banging on the keys of your older sister's synthesizer. Are you already downloading the update just so you can hear it for yourself? Yeah, I thought so.
Superzoom is great for an ironic selfie, an intense peek at a really cute dog across the street, or an up-close-and-personal moment with the remains of a plate of spaghetti that your friend would have just loved to eat (had you not destroyed it yourself first). I know there are probably a lot of moments in your life that deserve the kind of spotlight that only Superzoom can provide, and now, they've got it.
With the new update, you'll be able to post Superzoom videos to your feed, send them to friends via a direct message, or add them to your story. As always, I'm sensing that there will be a brand new subset of social media language around this feature. "I'm Superzooming you." "Your boots are so great that I have to Superzoom them." The sky is the limit with the lexicon, and we all know it.
Superzoom isn't the only component of the update. In preparation for Halloween, Instagram is also rolling out a collection of Halloween face filters. Both within the app's standard selfie camera and Instagram Stories, you'll be able to add flashlight, fog, night vision, vampire, and zombie effects to your face. People, start rehearsing your creepy "Happy Halloween!" messages now.
In Stories, you'll also have access to a handful of new seasonal stickers. With the update, you can decorate your images with zombie hand emojis (including zombie praise hands — can I get an amen?), candy corn emojis, devil horns, Jack-O'-Lanterns, eyeballs wrapped like candy, and spiderwebs. Think of the possibilities you'll have at your fingertips when you start adding these creepy decals to your photos and videos. I'm anticipating a lot of devil-horned cats and eyeball candy-eating bosses in the days leading up to Halloween.
While some of this update's features will only be amusing prior to Oct. 31 (a candy corn isn't so interesting come November), Superzoom will live on, and I, for one, am pretty excited about it. In the meantime, I think there's a lot of fun to be had with all the Halloween accents and spooky Superzoom videos. That dramatic music was pretty much made to be debuted at this time of year. Boo!