This Super Minimalist Skincare Line Is About To Become Your Next Beauty Obsession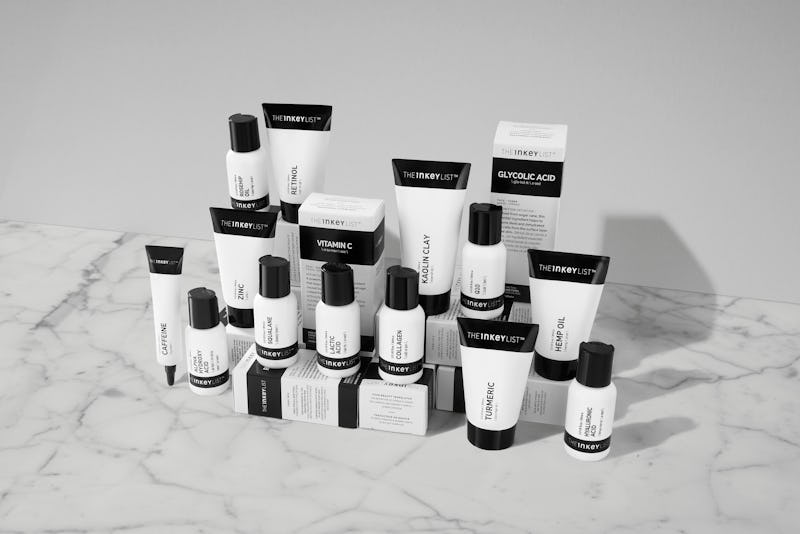 The Inkey
In the beauty world, 'The Inkey List' is a playful way of talking about a product's ingredient list. Which is why it makes so much sense that a straight-talking skincare company decided to make the phrase their name. But what is the deal with brand-of-the-moment The Inkey List? And how do you use The Inkey List serums and other products?
Much like Deciem's The Ordinary, The Inkey List, is an ingredient-led brand that speaks to budget-conscious beauty fans. Pick anything from the 15 product-strong line and it'll only set you back between five and ten pounds. However, unlike The Ordinary, which uses product names that often need decoding, The Inkey List is intent on keeping things simple and laying out their skincare for all to understand. The names are simple, for example. The hyaluronic acid serum is called, er, Hyaluronic Acid, while their vitamin C formula is simply Vitamin C... and so on.
As well as keeping naming simple, The Inkey List has become a self-proclaimed 'beauty translator', their website not only makes their easy-to-use formulas fully shoppable, it also answers popular beauty queries. You can shop from according to skin type, and each product page explains exactly what each ingredient is and how to use it.
Speaking to Vogue's Funmi Fetto, founders Colette Newberry and Mark Curry explained:
"There is a growing wave of consumers that are realising you don't have to spend a fortune to get incredible skincare but our thinking was, how do we go on to democratise this even further? Yes, we wanted to make sure the price point was accessible but what we felt was missing in the industry was accessibility to information and understanding."
They also pointed out the need to give people the tools to know how to use these products. "People are confused," they explained. "Giving someone access to retinol at £6 is fantastic but not if you don't understand how to use it.
"If an exciting ingredient is coming through, yes we can bring it to you as quickly as possible, but even more importantly, we can simplify it... We can help to be the educator."
Some of the best of their offerings are their serums; here's which ones to try according to your skin type:
Oily Skin
Although oily skin over-produces oil, it still needs hydrating. This is why hyaluronic acid is recommended for all skin types, and The Inkey's £4.99 formula is a winner. Oily skin does however need more exfoliation to turn over dead skin cells and maintain sebum production. The Inkey's Alpha Hydroxy Acid (AHA for short) uses 10% fruit acid to gently exfoliate skin without stripping or feeling harsh.
Dry Skin
For dry skin, the Hyaluronic Acid is a no-brainer. Hyaluronic acid holds 1000x its own weight in water, so is the ultimate hydrator. Smother this on day and night before moisturiser and you'll soon notice a huge difference to the texture and feel of your skin. Also brilliant is the brand's Squalane, which is an oil-like formula that targets dehydration. It's currently sold out on the website, but fingers crossed it'll be back with a bang soon.
Combination Skin
Combination skin needs both hydration and exfoliation on the T-zone. I recommend using the hyalruonic and/or squalane formulas on drier areas while experimenting with acids on your oily bits. The brand does a great lactic acid, which is a gentler AHA that can work well on sensitive skin when used sparingly. Try this or the Alpha Hydroxy Acid on your T-zone.
Mature Skin
I think The Inkey List, despite seemingly being targeted at a millennial audience, really comes into its own when it comes to formulas for mature skin types. It has a great retinol, which aides fine lines and wrinkles, and some powerful antioxidants that are crucial for skin repair and further prevention. Q10 helps to prevent damage from aggressors such as pollution, which accelerate skin ageing, while vitamin C aids pigmentation and brightens over time.
I love the simplicity and educational ethos behind this minimalistic brand, and I can't wait to see what they do next.