You'll Want To Pay Attention Because This Is How To Save Your 'I'm A Celeb' Faves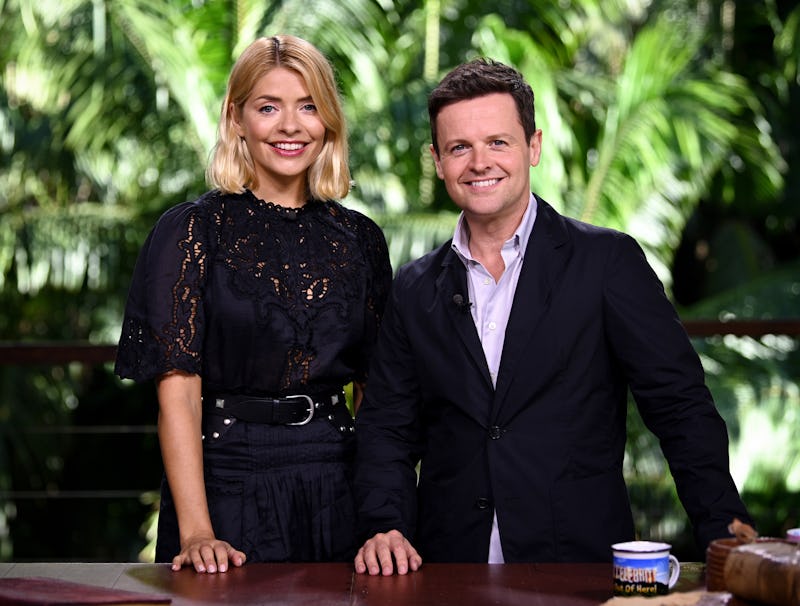 ITV/Shutterstock
It's time to Dec the halls with boughs of Holly, because I'm A Celebrity... Get Me Out Of Here! has finally returned for its 18th series. While it feels slightly odd not to see Ant McPartlin beside Declan Donnelly, Holly Willoughby is the perfect choice to fill Ant's shoes. Stifling giggles from Dec's one-liners to freaking out over the prospect of trials, I cannot wait to see how she fits in with jungle life alongside the regular host. Speaking of the trials, here's how to vote on I'm A Celeb 2018 if you want to keep your faves in and make certain celebs squirm.
The beauty of this reality show down under involves watching celebrities cope without the luxuries of modern life in the middle of the Australian jungle, and the meltdowns that often come with that experience. To make it even better, viewers can pretty much dictate the outcomes of contestants lives in the jungle through voting.
Though there has only been one episode so far, ITV have been fairly clear with how fans can vote to keep their faves in, or subject certain contestants to the infamous Bush Tucker Trials. Much like the voting system for Love Island this summer, you'll be able to cast your vote via an app specifically for the show which is available for Android and iOS users.
The ability to vote in-app isn't anything new for I'm A Celeb as it was first implemented back in 2015, which broke records at the time thanks to a large level of audience interaction, according to Tectonic Interactive. The app has continued to be an integral part of real-time voting for I'm A Celeb, and it's all thanks to the digital age and the increasing use of smartphones so it's no surprise you'll be able to read the latest camp gossip and take part in other activities to feel truly at one with the jungle.
That's not to say that the "old-fashioned" ways of voting are long gone, though. Rest easy as you'll still be able to ring or send a text to register your vote, by using the number displayed throughout the show and on the back's of the celeb's outfits.
And according to The Sun, you'll be able to vote more than once but only if you do so by phone. If you vote via the app, you'll have a limit of five votes "on each mobile device (up to six devices) per voting window."
Campmates were told what their first official Bush Tucker Trial would be on Sunday (Nov. 18). Spoiler alert: it will involve a lot of snakes. Viewers voted for Emily Atack to be subject to "The Viper Pit", which looks like a weird Harry Potter reference — y'know, chambers and snakes... or maybe that's just me.
Anyway, judging by Holly's reaction watching the teaser and Emily's strange excitement for it, "The Viper Pit" is going to be full of laughs rather than scares.
I'm A Celebrity Get Me Out Of Here continues on ITV1 at 9 p.m. on Monday (Nov. 19).