How To Watch Every Can't-Miss Olympics Ice Skating Event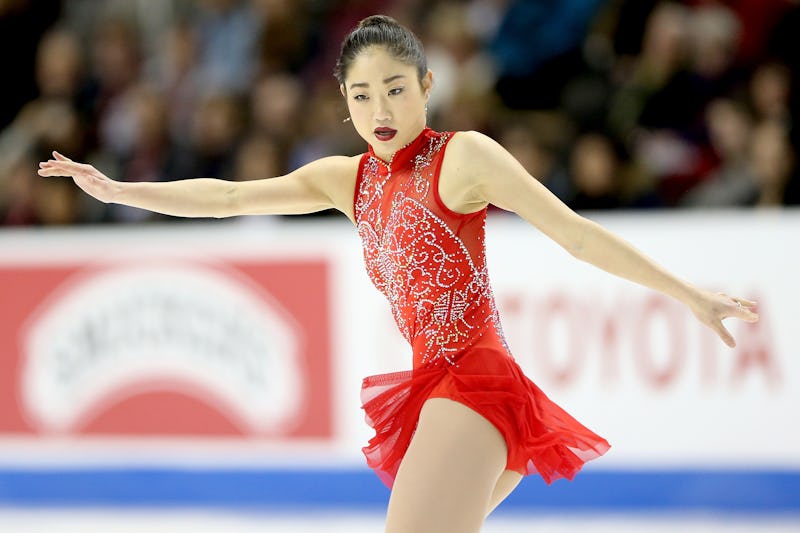 Matthew Stockman/Getty Images Sport/Getty Images
Cue the zamboni, because the Winter Olympics are finally here and it's time to get obsessed not only with bonkers events like skeleton, the biathlon-where-they-shoot-a-gun, and curling, but more mainstream sports such as figure skating and ice dancing. Team USA is going for gold this year and there is a lot to look forward to in PyeongChang. Here's how to watch figure skating at the 2018 Olympics so you won't miss a single salchow.
First, get familiar with NBC's 2018 Olympic Figure Skating schedule. Remember that PyeongChang, South Korea is 14 hours ahead of Eastern Standard Time and nine hours ahead of Greenwich Mean Time, so the date of the event may not be the date you're watching at home.
The team figure skating event runs for the first weekend of the Olympics, beginning Friday, Feb. 9 in South Korea but airing at 8:00 p.m. Thursday Feb. 8 (yes, before the Opening Ceremony) on NBC with pairs and mens short programs. Then there's ladies and dance short as well as the pairs free skate next — set your DVRs, because the primetime coverage for that is airing on NBC from 8:00 p.m. Saturday night until 3:00 a.m. Sunday morning. Then, at a sensible 7:00 p.m. Sunday night, you can catch the team medal event on NBC.
After that is the individual events. First up is a literal couples skate for Valentine's Day. The pairs short program begins in South Korea on Feb. 14 and ends Feb. 15, but air on NBC's 8:00 p.m. primetime coverage Feb. 13 and 14. Men's is next, airing on the 15th and 16th. Ice dancing is on the 18th and 19th. Then, ladies is back on NBC with short programs on Feb. 20 at 8:00 p.m. and free skate Feb. 22, same time and same place.
While NBC coverage is the best place to get your Tara Lipinski and Johnny Weir fix, there are other ways to watch figure skating at the Olympics this year. There's the NBC Sports network, which is sometimes a bit more comprehensive and not just highlights. You can visit NBC's website for livestreams regardless of timezone, and download the app from NBC Sports to watch full individual events. Hulu Live has not only NBC and NBC Sports but an Olympics channel you might want to keep an eye on. Finally, there's always Youtube — most programs find their way online pretty quickly.
Now that you know what's what, here are the members of Team USA to root for in 2018.
Adam Rippon
You've probably heard Rippon's name in the news recently, as the openly gay Olympian is taking public issue with Mike Pence's appearance at and support of the games. However, if you come for the drama, stay for his skating.
Karen Chen
This ladies figure skater is obsessed not with jumps or fancy footwork, but gliding across the ice in a spiral.
Alexa & Chris Knierem
We're only sending one pairs team to the Olympics, but the national champions are completely stunning — and married!
Madison Hubbell & Zachary Donahue
The current national champions each worked with several partners before, but obviously they click best with each other. They were even a couple IRL for a few years, but decided to break up and put their work first.
Vincent Zhou
He's only 17 you guys, and skates to Moulin Rouge. You can't miss it.
Bradie Tennell
She's one ladies competitor to watch this year, who seemingly came out of nowhere and is underlining her Cinderella story with music from the movie.
Madison Chock & Evan Bates
This (newly) romantic and competitive ice dancing partnership have been skating together since 2011.
Nathen Chen
You've probably already seen this champion on some cereal boxes leading up to the main event.
Mirai Nagasu
She barely missed out on the last Olympics, when the selection committee went in favor of Ashley Wagner. She's also the only woman attempting a triple axel — and if you've seen I, Tonya you know what a BFD that is.
Maia & Alex Shibutani
This brother and sister ice dancing partnership is completely adorable, giving you total Hough or High School Musical vibes.
Of course, part of the fun of the Olympics is discovering a new favorite athlete from another country. Canada's Tessa Virtue and Scott Moir, for example. Nobody will judge you. There are as many ways to enjoy figure skating as there are to watch figure skating.