The Return Of 'American Horror Story' Is SO Soon & My Excitement Is *Peaking*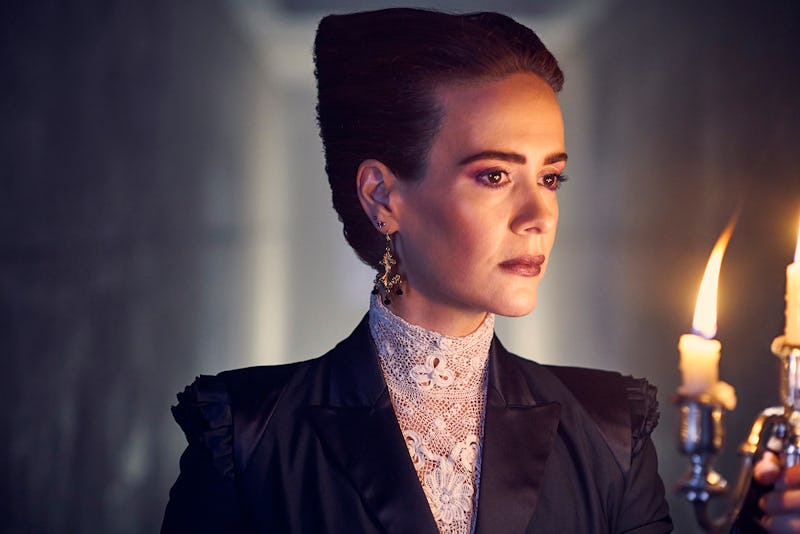 Kurt Iswarienko/FX
The eighth series of American Horror Story kicked off in the U.S. earlier this month and fans of the show revelled in the return of Ryan Murphy's horror series. However UK viewers might be wondering how and when they get to feast their eyes on the latest outing of the hit horror series. Well wonder no more, because here's your guide on how to watch American Horror Story in the UK.
If you're confused as to why the show is currently missing from your TV guides, fear not, the brand new series won't be debuting on UK screens until Thursday September 27 at 10 p.m. on FOX, which is available on Sky channel 124 and Virgin Media. In the mean time, you can quench your AHS thirst by enjoying all seven previous series of the hit U.S. show, which are available to stream on Netflix and on Amazon Instant Video.
The official summary for new series, known as Apocalypse, promises exciting things for those eagerly awaiting the show's return, it reads "This season we are welcomed to Outpost 3, where there are two rules to follow: you may never leave the building, and no unauthorised copulation. No exception. Sounds simple right?", and continues, "The story begins with the end of the world, so grab a pillow and some popcorn and settle in for the fright of your life."
Ever since the announcement that Season 8 would in fact be a crossover of the previous Murder House and Coven seasons, anticipation for the premiere episode has gone through the roof, and creator Ryan Murphy only fuelled that excitement when he spoke to Entertainment Weekly about the new season.
"It's a season unlike anything we've done because there's a big hook to it. There's a huge thing that happens in episode five."
Episode five will be airing in the U.S. on October 10, so it's probably best to avoid Twitter in the aftermath if you like your TV sans-spoilers. Murphy also took to Twitter to make yet more exciting announcements last month by revealing that many fan favourite cast-members, including Lily Rabe, Gabourey Sidibe, and Sarah Paulson, would all be returning for the show's eight season.
Although UK fans will have to wait a little longer to watch the series premiere episode — and dodge those pesky online spoilers — the early fan reactions from our friends across the pond seem to indicate that we could be in for a treat.
Fans of the long-running FX series can be very vocal about their opinions of the show, and this time around it appears the return of legendary American Horror Story characters including the likes of "Madison Montgomery" played by Emma Roberts, and the one and only Stevie Nicks, have really got people talking.
With all the excitement surrounding crossovers with earlier seasons, combined with what appears to be the strongest cast in years — including the incomparable Joan Collins (yes, you read that correctly) — the return of American Horror Story in the UK couldn't come soon enough.
This article was originally published on