OMG, 'American Horror Story' Has Announced Its Creepy AF Season 8 Title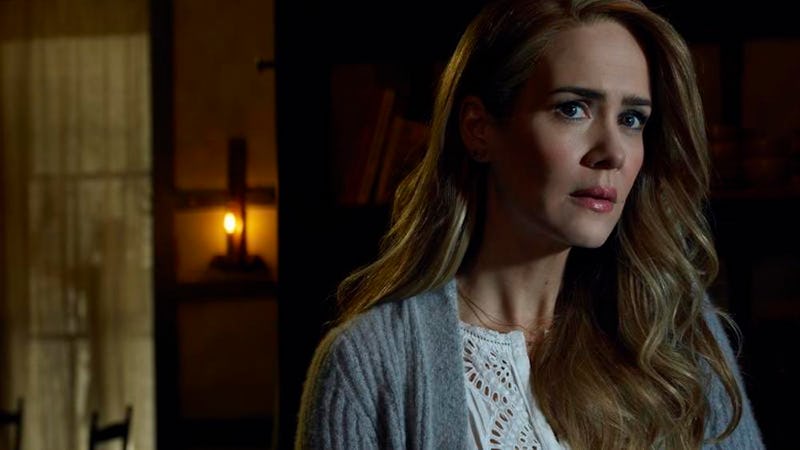 Frank Ockenfels/FX
Since its inception with Murder House in 2011, The American Horror Story anthology has never not been terrifying. And with Season 8 combining Season 1 with Season 3's Coven, it was bound to be double the scares. Announced at Comic-Con 2018, the title of American Horror Story Season 8, AHS: Apocalypse, further proves that the upcoming season just might be the most haunting yet. The title of the AHS Murder House-Coven crossover season leaves fans with more questions than answers — what does American Horror Story: Apocalypse even mean? But one thing it makes clear: this season is probably going to be the scariest one yet.
Besides Murder House (which wasn't even officially called that when it premiered), this is the most foreboding name given to a season of AHS. And if the accompanying first promotional photo of the season accomplishes anything, it's proof that fans can expect a truly disturbing end of days. The title "Apocalypse" has been thrown around quite a lot in the entertainment world — with Apocalypse Now, X-Men: Apocalypse, and even Apocalypto. But it's a particularly ominous word to use in the already very ominous American Horror Story anthology series. Ryan Murphy had previously teased that the season would be set in the future, but later clarified that it will be set just 18 months from the present. So Apocalypse won't be set in a post-apocalyptic landscape, at least not necessarily. Instead, the first photo indicates you should be concerned for the future generation within the AHS world.
With the black hand with long, black fingernails touching a baby drenched in red with those same creepy nails, the first image from AHS: Apocalypse will have you thinking of a satanic baby — à la Rosemary's Baby. But it also is evocative of Murder House. Babies were a huge theme in Season 1. The house's evilness came from Dr. Montgomery, who performed abortions and experimented on babies. And in the main timeline, Connie Britton's Vivien had a miscarriage and later died giving birth to twins — one fathered by her husband, Ben (Dylan McDermott), and one fathered by Tate (Evan Peters) from when he raped her in the black latex suit. And that black hand in the Apocalypse photo is definitely giving off some Rubber Man vibes. The show also shared a similar version of this photo to their official Instagram account.
Only one of Vivien's twins survived and, of course, it was Michael — the child fathered by Tate. Also significant going into Apocalypse: Sarah Paulson's Billie Dean Howard prophesied that a child born under the conditions that Michael was would be the Antichrist. And at the very end of Murder House, Jessica Lange's Constance comes home to find that her toddler grandson has murdered his nanny — just like his father had murdered people at his high school. So, perhaps a murderous Antichrist child will be how Apocalypse and Murder House will connect.
As for how Coven will come into play, maybe the witches will be called upon to stop this unholy child. But that doesn't mean the characters from these previous installments will show up in Apocalypse. Season 8 will feature many familiar faces, but many will likely be playing new characters. For instance, Murphy revealed at an AHS: Cult panel that Peters will be playing a comedic hairstylist this upcoming season, according to Variety. Other AHS veterans who are confirmed to be returning include Paulson, Kathy Bates, Cheyenne Jackson, Billie Lourd, Leslie Grossman, Billy Eichner, and Adina Porter. And newcomer Joan Collins and, as Eichner posted, a mystery actor will round out the cast. (In the name of all that is unholy, please let that mystery cast member be Lange.)
While the word can mean "the end," Apocalypse thankfully isn't the last of the AHS anthology series. In 2017, FX announced that American Horror Story was renewed up to Season 9. So even though Apocalypse is bound to be disastrous for the characters of Murder House and Coven, the Season 8 title promises to be a destructively good time for fans when it appears on FX on September 12.