How To Watch Ariana Grande's Benefit Concert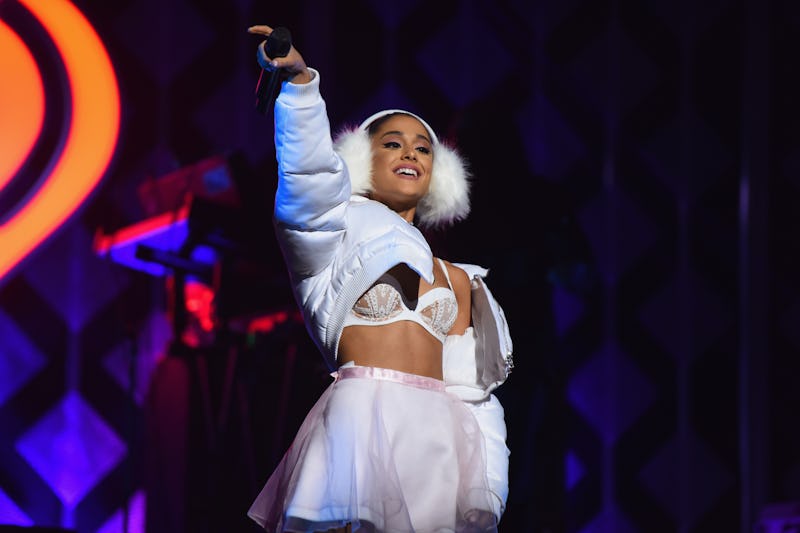 Dave Kotinsky/Getty Images Entertainment/Getty Images
The power of music is drawing an all-star lineup of singers to help heal the city of Manchester, England. Ariana Grande, Justin Bieber, Miley Cyrus, and more are scheduled to perform at the One Love Manchester charity concert on Sunday, June 4. Tickets sales from the fundraiser will benefit the victims of the May 22 suicide bombing during Grande's Manchester Arena show, according to Billboard. As U.K. fans flock to buy tickets on Thursday, June 1, international music lovers are probably wondering how they can watch Grande's benefit concert too. Billboard reports the show "will air live on BBC TV, BBC Radio, and Capital Radio Networks, and a streaming partner will be announced soon."
UPDATE: As The Hollywood Reporter reports, it was announced on Good Morning America that many ABC networks will be airing Sunday's benefit concert after the NBA Finals. The concert will also be available on Freeform live.
EARLIER: BBC reports, the 3-hour concert will start at 7:15 PM BST — 2:15 PM EST, 1:15 CST, 11:15 AM PST. BBC director general Tony Hall told the media outlet, "The BBC is proud to be broadcasting what will undoubtedly be a moving tribute to the victims and their loved ones."
Grande announced the benefit concert via Twitter on Tuesday, May 30. Twenty-two people were killed and 119 were injured during Grande's show at the Manchester Arena as a result of the blast. Days after the attack, the 23-year-old pop star shared a heartfelt post on Twitter promising to return to Manchester to support the victims:
"I don't want to go the rest of the year without being able to see and hold and uplift my fans, the same way they continue to uplift me. Our response to this violence must be to come closer together, to help each other, to love more, to sing louder and to live more kindly and generously than we did before. I'll be returning to the incredibly brave city of Manchester to spend some time with my fans and to have a benefit concert in honor of and to raise money for the victims and their families."
Although BBC TV is only available in the U.K., Variety magazine reports BBC will serve as the broadcaster for international television networks. BBC reports proceeds from the concert will go to the We Love Manchester emergency fund, which was established by the Manchester City Council and the British Red Cross. In her tribute post, Grande wrote, "Music is meant to heal us, to bring us together, to make us happy. So that is what it will continue to do for us." If your local cable provider has BBC America, don't forget to set your DVRs this Sunday to show your support, or stay tuned for the announcement of the streaming service.