'Black-ish' Isn't Available On C4 Anymore, But Here's How To Still Watch It In The UK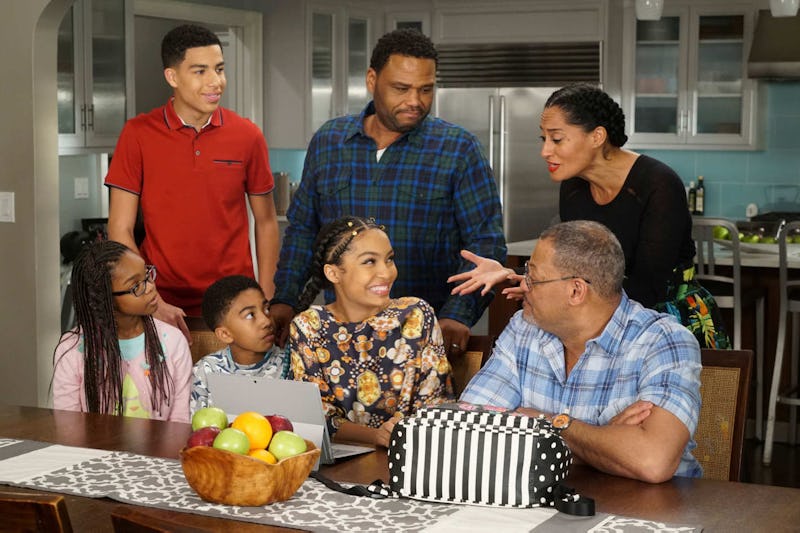 Black-ish / ABC
The Emmy and Golden Globe-nominated Black-ish is back for Series 5. The family sitcom follows the Johnsons, an African-American middle-class family who live in a predominately white neighbourhood. Airing on both sides of the Atlantic, Black-ish series one to four were once available to watch on Channel 4 On Demand. However, that is sadly no longer the case. But there's still a way to to watch Back-ish in the UK.
Starring Tracee Ellis-Ross, Anthony Anderson, and Laurence Fishburn the series is a smash hit. Covering issues that come with raising a family, holding onto cultural identity, as well as being hilariously funny black-ish is not a series to miss.
You can catch series 5 of Black-ish in the U.S. on ABC, as well as streaming it online. However, it isn't quite easy over here in the UK. The Express reported that there is no official air date for Series 5 of black-ish in the UK. I contacted a representative at Channel 4 to ask whether Black-ish will be available to watch online again and when series 5 will begin on the Channel 4. I am still waiting for a reply but will be sure to update you when I hear back.
However, if you are a die-hard fan of the show or want to watch it for the first time before Series 5 comes to the UK all four series of black-ish are available to download on Amazon Prime Video. You can buy one episode for £2.49 or an entire series for £14.49, or if you reckon you'll get through all four series you can invest in an Amazon Prime TV Season Pass to save yourself some cash.
With 23-24 episodes in a series, it's a lot of TV to watch before Series 5 starts but if you are anything like me and feel Amazon Prime and chill is the perfect way to spend a lazy Sunday, you'll make light work of that.
Black-ish follows Andre "Dre" (played by Anthony Anderson) and Rainbow (played by Tracee Ellis-Ross) Johnson as they try to create the perfect life for their children. Only they realise their kids' childhood is a lot different to their own.
In an interview withVariety, Anderson explained about what sets Black-ish apart and why it has achieved such massive success Anderson said, "what's crazy with our show and just having that fan base is, it's one of the few shows that's on broadcast television right now, probably television period, that an entire family can sit down and watch and enjoy."
"Generations of one family sitting together and watching your show and getting it, and then explaining to one another, 'Oh well this is how it was in my day,' 'This is how it is now, Grandpa.'"
Yara Shahidi has played Zoey Johnson on Black-ish since the series first started in 2014. In 2017, she told Harpers Bazaar how it feels to be working in TV at a time of so much change. "What I love a lot about this renaissance of diversity is that while we were able to see so many beautiful black and brown faces before on TV, it kind of disappeared in the early 2000s—now it's re-emerging with this aspect of intersectionality of not only talking about one identity but having the ability to delve into a conversation about the layers of identities that make up one human," she said.
With an all-star cast, killer script, and hype surrounding the show that isn't about to go away, Black-ish is the perfect series to settle down in front of on these cold winter evenings.