Carrie Fisher & Debbie Reynolds Had A Unique Bond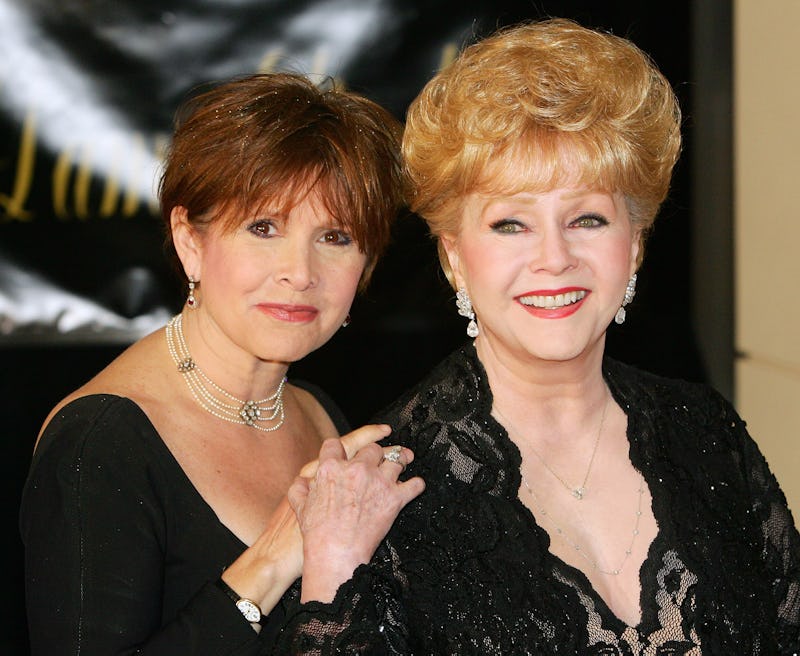 Ethan Miller/Getty Images Entertainment/Getty Images
Before 2016 came to a close, the most brutal year for celebrity deaths in recent memory slipped in two more devastating losses with Carrie Fisher and her mother Debbie Reynolds passing away on consecutive days. The surprising loss of both legends left fans heartbroken, but also filled many with a new desire to learn more about their unique mother-daughter relationship. So it's fitting that a new documentary about the pair, Bright Lights, is now seeing release. If you're looking for how to watch Bright Lights, let me fill you in, because you're going to want to see this film.
The doc first premiered at Cannes Film Festival last May, and then went on to screen at a handful of other film festivals throughout the year — though all took place before the deaths of Fisher and Reynolds. HBO, which serves as both producer and distributor on the film, originally had the documentary scheduled to premiere on their network in March of 2017. But following the tragic deaths of both Fisher and Reynolds, HBO moved up the release date for the film to January 7, 2017 at 8 p.m.; meaning those who subscribe to HBO will be able to watch the movie on that date; or on-demand anytime after that on HBO's streaming services.
If you're not an HBO subscriber, though, you'll have a tough time. There currently are no plans to release the film anywhere but on HBO, but if you're looking for some insight into the history between Fisher and Reynolds, you could check out the fictional movie Postcards From the Edge. The 1990 film stars Meryl Streep as an actor and recovering drug addict who exits rehab and moves in with her somewhat estranged mother, an old Hollywood star herself, played by Shirley MacLaine. The film's screenplay was written by Fisher, who based it on her semi-autobiographical novel of the same name, which was in turn loosely based upon her relationship with her mother (though she was adamant that the characters in the movie are fictional and share a far worse relationship than her and her mother). The film can currently be viewed by Starz subscribers for free, and can be rented online from vendors like iTunes and Amazon for $2.99.
Much about the pair's interactions changed in the 26 years since the release of Postcards From the Edge, as what was once a famously contentious relationship became one of mutual love and respect. Bright Lights was described as a "love story" by HBO Documentary Films president Sheila Nevins, who told Variety, "If this was a Hollywood script, no one would believe it. They just loved each other so much. The bond was just unbreakable."
Fisher and Reynolds will be greatly missed, but thanks to Bright Lights, fans will get the chance to see the two screen legends as they really were, and will develop an even greater appreciation for their unique and special relationship.