If You Ever Fancied A Night In The Woods With David Tennant, Here's Your Chance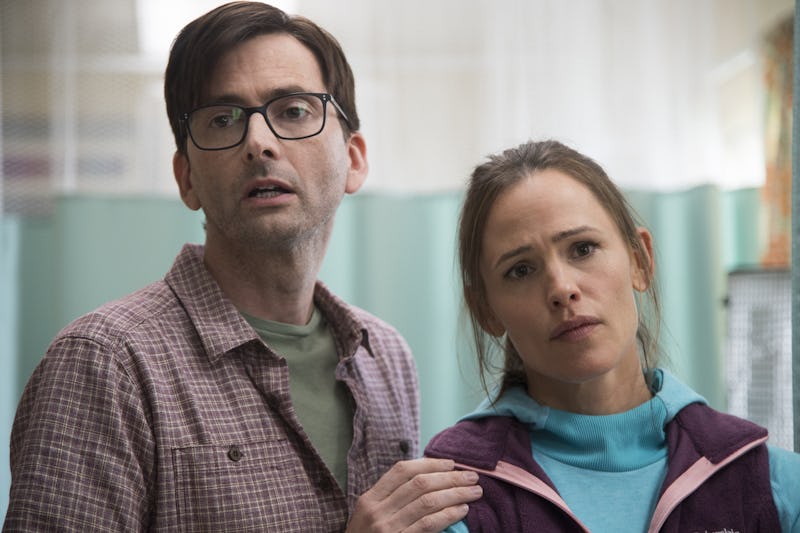 Camping / HBO
There was a point in time where I literally couldn't escape people gushing about HBO's Girls — and with good reason. The female-led comedy started off really great. While the hype around it quietened down in later series, people quickly began to take a notice in what the showrunners Lena Dunham and Jenni Konner would do next. Well, what they did next was a show called Camping, and it is epic. If you haven't seen it and you're a true Girls stand like me, you're probably wondering how to watch Camping in the UK. So, here's the low down.
Dunham and Konner's latest project is actually something you may recognise as it's an adaptation of a British show; Julia Davis' beloved Sky series Camping. The mini-series stars Jennifer Garner and David Tennant in the lead roles, and the first episode has already aired on HBO over in the States. Unfortunately, we don't have that channel here in the UK, but is there a way us Brits can get a slice of the pie too?
At the moment, there doesn't appear to be plans to air Camping on any British networks which is a little gutting. However, Sky works pretty closely with HBO and syndicates in-demand from the channel across regularly (most notably Game of Thrones) so there could be a chance that they could air it at a later date. I have contacted both Sky and HBO for confirmation this could be in the works, however, I am yet to hear back. As soon as a rep for both companies gets in touch, trust me, you will be the first in the know.
The new Americanised version of Camping loosely follows the concept of the original programme; a group of friends coming together for a birthday camping trip and while it starts off well, it quickly goes awry. Led by Garner in her first major television role since Alias, the U.S. actress plays neurotic Kathryn Siddel-Bauers who has meticulously planned the holiday to a tee and won't see a single deviation from the schedule.
Although she may have the best intentions, her husband Walt, Doctor Who's David Tennant, is quite frankly miserable as a result and things quickly go from bad to worse as her plan starts to fall apart. In the original show, Garner's role was played by Vicki Pepperdine and Tennant's by Steve Pemberton.
The new HBO adaptation is set to be eight episodes long, two more than Davis' OG Sky series. But will it be broadcast here in the UK? Well, IMHO, it would also just make sense for Sky to run the show, because after all, it aired the original Julia Davis show back in 2016. Come on guys, give the people what they want.
However, until Sky or HBO makes an official announcement, I guess we'll just have to wait and see if Dunham's Camping snags a series distribution order here. In the meantime though, you can relive the glorious disaster of Davis' original series right now if you have a subscription to Sky TV. Alternatively, you can watch it online on your laptop by clicking here. Enjoy.