Jennifer Garner's 'Camping' Character Is Unlikable, But There's An Important Reason Why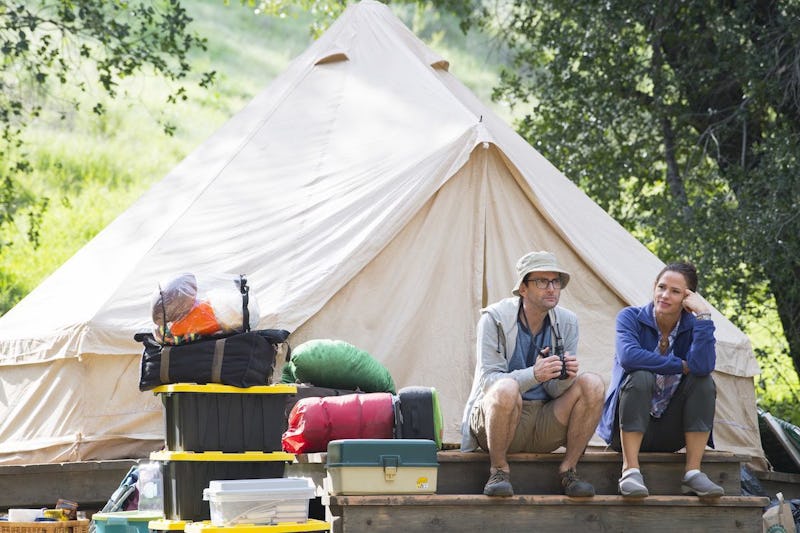 HBO
Almost everything about Kathryn McSorley-Jodell, Jennifer Garner's character on HBO's Camping, will annoy you, from the intense and fast way that she talks, to the stiff and aggressive way that she moves, to the controlling and cold way that she treats her husband and her friends. Trapping the "party of nine, eight adults, one kid, four nights at the Groupon rate" (which she repeats robotically, over and over, upon check-in at the campsite) camping in the woods for her husband Walt's birthday weekend quickly devolves into complete insanity over the course of HBO's new limited comedy series. You'll be tempted to laugh at Kathryn's misfortune every step of the way; even Jennifer Garner's usual charm isn't enough to make her character likable at all. In fact, she might be the most unlikable character on television ever. But a good portion of that is by design.
Executive produced by Lena Dunham and Jenni Konner, Camping (adapted from the U.K. series created by Julia Davis) taps into an extremely personal side of Dunham's life. Like Dunham, who has been very open about her own struggles with endometriosis and fibromyalgia and the chronic pain she endures as a result, Kathryn suffers from chronic pain. Her often abrasive personality is in part a product of that struggle, which has twisted her Type-A attitude into something much more grating as the years have passed. Kathryn may be unlikable, but she's just doing the best she can while suffering through every second.
When it came time to do press for Camping (premiering Sunday, Oct. 14 on HBO), Dunham wasn't able to participate due to her own health issues. But Konner and Garner were able to speak to Bustle in her place. "Lena always writes very personally and this was no exception," Konner says, sitting next to Garner on a couch in a hotel room at the Four Seasons in Beverly Hills. "So many sufferers of chronic pain — and as we know Lena has been very public about her own struggle — feel like there is a disbelief or things you can't see don't necessarily make people understand what you're going through. There is a sense with Kathryn that no one gets it. She's all alone with it."
If you, like all the other characters gathered on the camping trip, get annoyed at how often Kathryn brings up her pain, just think of how annoyed chronic pain sufferers must be feeling on a daily basis. "That was one of the things that was really interesting to me about watching [Garner] in this part because she is in so much pain and she is so uncomfortable and she has been for so long," Konner says. "But she's hit this point where she's so angry about it and she just has to keep reminding people, every minute, what she's feeling because they won't acknowledge it or see it in the way she needs them to."
Kathryn's need to remind everyone of her various medical issues will make some viewers (and even the cast and crew of Camping) feel the need to google phrases like "pelvic floor," among others. "I've had enough babies and done enough kegels to be pretty comfortable with my pelvic floor," Garner laughs, while Konner reveals that she "learned a lot about specific medical things" like "bioidentical hormones."
And Garner dives headfirst into this role, inhabiting Kathryn in a way that will make you laugh while breaking your heart simultaneously. It's because she has seen firsthand what chronic pain can do to a woman who is just trying to live her life.
"I had a friend who had a headache that lasted for years and she couldn't figure out anything," Garner says, putting her hand over her heart as a look of absolute sadness washes over her face. "It was like almost at migraine level but she still worked and she still raised her kids but she had a look on her face all the time that was pained. She was short tempered, she couldn't be around her kids all the time. And you realize later when it finally resolved she just said, 'I was doing the best I can. I was just trying to survive.' And you think, god, how unfair."
She continues passionately, "Think of all the times that I was quick to judge her in any way or to say, 'Ugh, she's so grumpy.' You have to remember people are going through things and I truly believe that in Kathryn. She's truly doing the best she can inside of a body that isn't being that kind to her."
Camping brings to life female rage in a way that was cathartic for Garner because she empathized with Kathryn's frustrations. "She's ready to burst and by nature she's a really controlling person," she says. "This is not somebody who would be voted the smiliest for sure. But she did used to be more fun. I think of her as she did organize the camping trips and the friends getting together and she made sure that someone brought chips and someone brought beer and someone brought burgers. You might roll your eyes at her, but you were glad she was there."
"Someone had to do it," Konner adds.
Garner laughs. "And she made it happen," she continues. "It's just that that's been demented over time and so has her relationship with Walt [David Tennant]. I think she and Walt were actually really happy in college and were the couple that everyone would have thought of as the mom and dad of the group. You just see a glimpse every now and then of who she used to be to him and who she used to let him be to her."
But once the chronic pain took over, everything changed. "And then her body started hurting and he felt more like the enemy and she didn't want to hear him guilt her at all about sex," Garner says of the deep-rooted issues in Kathryn and Walt's marriage. "You see it happen in relationships. They were broken so long ago and they're not communicating. But she is about to pop. She's a danger to herself and everyone emotionally."
No one has to be likable, they have to be relatable.
That's why she's so stiff and intense all the time: she's doing her best to push through the pain and maintain control over something in her life. One scene in particular had Konner laughing as Garner was supposed to move a log. "Jen is very tough and strong and athletic," she says. "My note was, 'Can you make that look like it's hard?'"
Garner smiles big, and her eyes widen as she thinks back to that day of filming. "I had just finished Peppermint, which was an action movie, so I was so strong when we started," she says with a laugh, miming lifting a log over her head. "I could have just taken the log and [growls]."
"And two men placed it there!" Konner adds with another laugh.
Both Garner and Konner know how rare it is to not only see female rage presented unapologetically in pop culture, but also an unlikable female main character. While male characters can be the antihero, female characters are the "shrew" or "b-tch."
"Especially it's hard for female characters to be unlikable; people generally tend to not enjoy that so much," Konner says with a knowing laugh. "But we do our best and a complicated person is the most interesting character. No one has to be likable, they have to be relatable. So if you can find something in a character that makes sense to you, even if it's someone you might not like, then it can touch you."
Garner promises that more of Kathryn will be revealed as the season progresses to make viewers empathize with her. "If you hang in there, by the end you'll have just peeked under enough leaves to see who is hiding behind the tree," she says. "You don't just get it all at once, but you will, by the end, hopefully have — maybe not the love I have for her, but you'll understand her." And hopefully, by extension, other chronic pain sufferers will feel seen and understood, too.