Big Brother Fans Will Get a 'CBB' Live Feed, But There's A Catch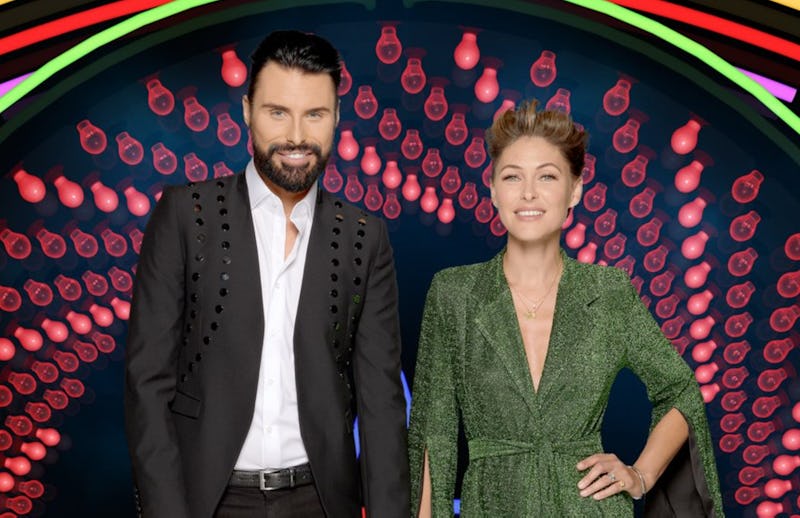 Channel 5
The storm is finally here, and the English weather is aptly complying. The tropicana-infused house is ready and waiting for the CBB launch this evening, Thursday August 16. As much as I am looking forward to the reveal of the housemates, I can't be the only one wondering how to watch Celebrity Big Brother's live feeds.
Well, there might be a slight problem with that. Turns out, the live feed for this series' CBB is a bit up in the air. I had a look on TV Guide UK to plan my evening ahead, and I couldn't believe my eyes. Obviously, CBB is there in all its two-hour glory from 9 to 10 p.m. with Celebrity Big Brother's Bit on the Side following straight after. Surely, as has been with previous series, the live feed should follow straight after? Nope.
Um, what? I had to dig a little deeper, it can't be CBB without a live feed. I contacted show to soothe my worries, but have yet to receive comment. Although, representatives did give comment to OK! Magazine last week, were the confirmed that although the live feeds won't appear on launch week, they may make an appearance during subsequent eviction nights.
"There's no space for the live feed programmes on an action-packed launch week but they will return on eviction nights in subsequent weeks," a spokesperson told OK! The spokesperson added, "Note that Celebrity Big Brother launch night already features three hours of unmissable Big Brother content including an extended launch show and Big Brother's Bit on the Side." Once those feeds are up and running for post-eviction antics, you'll find them live on Channel 5.
Obviously, fans weren't so pleased with the absence of a live feed on launch week.
When the civilian Big Brother first launched in 2000 on Channel 4, viewers were able to watch 24 hour live feed "broadcast with a 10-minute delay," as reported by Digital Spy. As the show progressed, Channel 4 reduced "the live feed output in 2008 due to falling viewing figures," and would eventually reinstate the 24-hour feed but for a small price of 49p a day, £1.99 for a week, or £14.99 for the whole series.
Channel 5 picked the show up in 2011 after buying the rights, and decided not to feature a 24-hour live feed "and would instead focus on social media to engage with viewers." They would eventually reinstate the live feed in 2012 during Big Brother 14, but only two-hour live feed rather than a constant stream.
Even though Channel 5 have said that the live stream will return to television this series for eviction nights, it's still not the same as it was when the show originally aired. Those 24-hour live feeds fully enveloped viewers into the voyeuristic, social experiment aspect of the show were so damn intriguing, that whittling those feeds down to just two hours doesn't satisfy that itch.
Producer and Paul Osborne recently confirmed that the civilian series of Big Brother will "air immediately after" this series of CBB, according to The Mail Online. Osborne — who is now also Creative Director for the series — also revealed to Radio Times that he knows how much fans want the live feed, teasing "who knows what's going to happen in the future?"
Who knows, indeed. Let's just hope it involves a live feed.