Coldplay's Must-See Documentary Reveals The Truth About Their Moving Backstory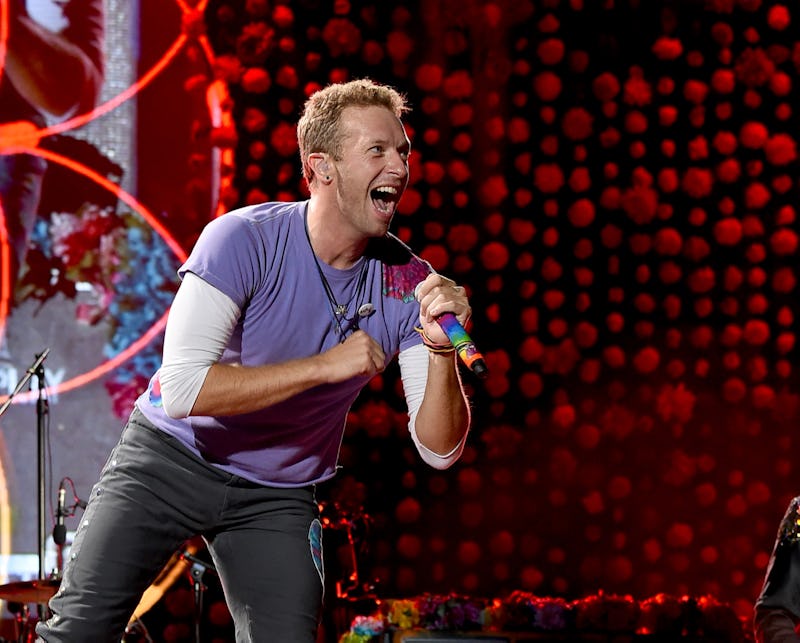 Kevin Winter/Getty Images Entertainment/Getty Images
There's no doubt about it, Britain has created some class acts when it comes to rock music. From The Beatles through to Wolf Alice, it's hard not to imagine the British music scene without these bands. And whether you love or hate them, if you ask me Coldplay also fall under the bracket of British bands of utmost importance, and they're releasing a film titled A Head Full Of Dreams to prove it. Here's how to watch Coldplay's documentary in the UK.
Well, it looks like it'll be pretty easy as according to a press release sent to Bustle UK, A Head Full Of Dreams will be available to stream via Amazon Prime on Friday, Nov. 16. The film will also be released theatrically "in more than 2,000 cinemas globally" this Wednesday, Nov. 14. You can buy tickets here.
In the film, director Mat Whitecross documents the entirety of the band's 22-year career, capturing the four-piece from even before they were a band. How, you ask? Well, Whitecross first met the boys at college in 1996 just as they began to make music. "From the very first rehearsal in a cramped student bedroom, Mat has been there to capture the music and the relationships on tape," the press release says.
When you think about it, all these years Whitecross has been filming his mates, he's been creating a documentary about Coldplay without knowing where their career would actually go. Yeah, I'm as mind-blown as you are.
And it's not the director's first foray into documenting the career of a band, either. Whitecross was the man behind the critically-acclaimed Supersonic — a film that traversed the insanity surrounding Oasis and their rise to meteoric fame. "You probably couldn't find two more different bands than Oasis and Coldplay, but in both cases they weren't really sure what story they thought we should tell," Whitecross explained in an interview via Coldplay's official site.
"With Coldplay, because none of them have wrapped guitars around each other's heads, or physically attacked each other — at least not recently — I think Chris was worried that there wasn't enough to the story. And I think the rest of the band had a similar attitude. They're not chasing the limelight in the way other bands are."
For a band that has a debut record that immediately became a number one album and has since gone on to be certified platinum, I think it's safe to say they've totally got a story to tell. Especially since the six albums that followed pretty much followed a similar trajectory.
"I find it very moving to see those early childhood images and then to see them now and how they've evolved," Whitecross said. "You look at those videos of them when they were a struggling band and you see them now, it's an amazing journey to have been on [...] that's why it's a compelling story to tell."
If the way I got chills from the 'Fix You' performance included in the trailer is anything to go by, I think this film is going to be seriously iconic.
A Head Full Of Dreams will be available to stream via Prime Video on Nov. 16.