The Controversial CIA Nominee Is About To Finally Speak Out On That Torture Program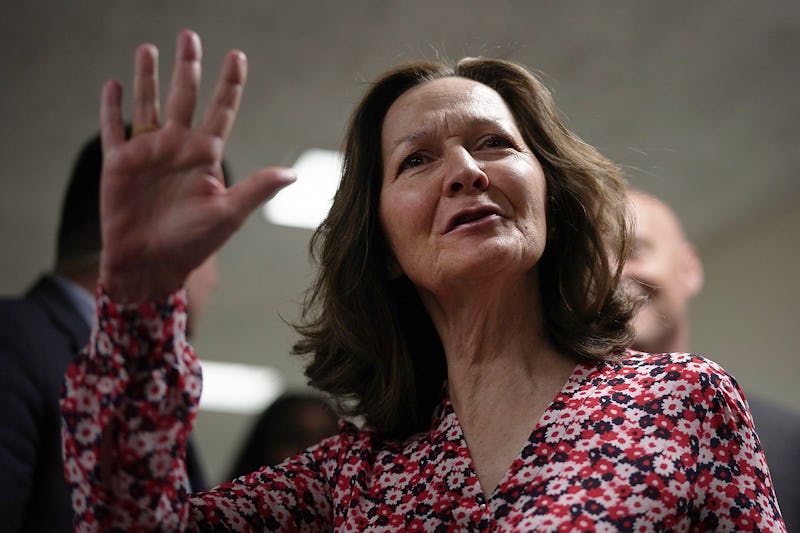 Alex Wong/Getty Images News/Getty Images
The Senate Intelligence Committee will conduct what will reportedly be a tough confirmation hearing on Wednesday for Gina Haspel, the latest controversial figure President Trump has nominated to a top government post. This hearing will force Haspel to explain her dubious past, and since she could potentially become the most powerful person in the U.S. intelligence community, you're probably wondering how to watch Gina Haspel's Senate confirmation hearing.
If confirmed, Haspel will become the director of the CIA after serving unofficially in the role since Mike Pompeo stepped down to become Secretary of State. Haspel will testify before the Senate at 9:30 a.m. on Wednesday. To watch her hearing, tune in at that time to one of the outlets that will stream it live, like the Public Broadcasting Service or C-SPAN 3. If you miss the broadcast the first time around, C-SPAN will show it again later in the day at 9 p.m. on C-SPAN 1.
Her hearing is definitely one to watch: Haspel is a highly contentious nominee and is expected to face tough questions. In fact, her long history as an intelligence officer is so controversial that she went to the White House on Friday and offered to withdraw her nomination in order to avoid "the spectacle of a brutal confirmation hearing," according to The Washington Post.
Supporters call her the "Atomic Brunette." Critics call her the "Queen of Torture." Haspel's oversight of a torture program for terrorist suspects in Thailand in 2002 will likely be the focus of many questions during the hearing: At least one suspect there was repeatedly waterboarded and detained in a small box, according to NBC News. Torture is illegal under international law — under the 1948 Universal Declaration of Human Rights, as well as subsequent covenants — and national law, according to PolitiFact. However, the waterboarding of terrorist suspects was practiced and defended by the Bush administration.
Haspel briefly ran the Thailand prison a little over halfway through her career with the CIA. She entered the agency as trainee with the Directorate of Operations in 1985, according to a timeline of her career that the agency declassified on May 1. She went on to complete field assignments around the world, including in Turkey and Ethiopia, before taking on leadership positions at several stations and at the Counterterrorism Center. She served as the National Clandestine Service's deputy director between 2012 and 2014, became the CIA's deputy director in 2017, and has been its acting director since Pompeo's resignation.
The timeline the CIA released of her career is incomplete, which caused critics like Senator Ron Wyden (D-OR) to argue that the agency is engaging in a "public influence campaign" and even a "coverup" of her actions. and a Among the events in Haspel's career of which we are aware, another especially controversial one is her drafting of a 2005 order to destroy video evidence of CIA interrogations.
According to her prepared remarks, obtained by The Washington Post, Haspel will say at the hearing that she no longer supports the use of torture. However, that's not enough for the 115 former ambassadors who sent an open letter to the Senate on Wednesday urging it to reject Haspel's nomination. Even if Haspel promises that she will not restart torture programs while heading the CIA, these former diplomats argue that "the point will remain that her record of involvement in torture was judged worthy of and compatible with holding the CIA's highest office."
If confirmed, Haspel will become the agency's first female director. It is unclear whether or not her nomination will be successful: She needs to secure votes from a majority of the Senate, which is currently 49-51 in favor of the GOP. Senator Rand Paul (R-KY) has already said that he will not vote for her, but all other Republicans are expected to support her.
Haspel needs to win over at least two liberal votes to push through; according to Politico, there is a significant chance that she will achieve the support of red-state Democrats like Joe Manchin (D-WV). It is unclear when the vote on her nomination will take place before the Senate.