Here's How You Can Start Watching Instagram's New IGTV Channel Right Now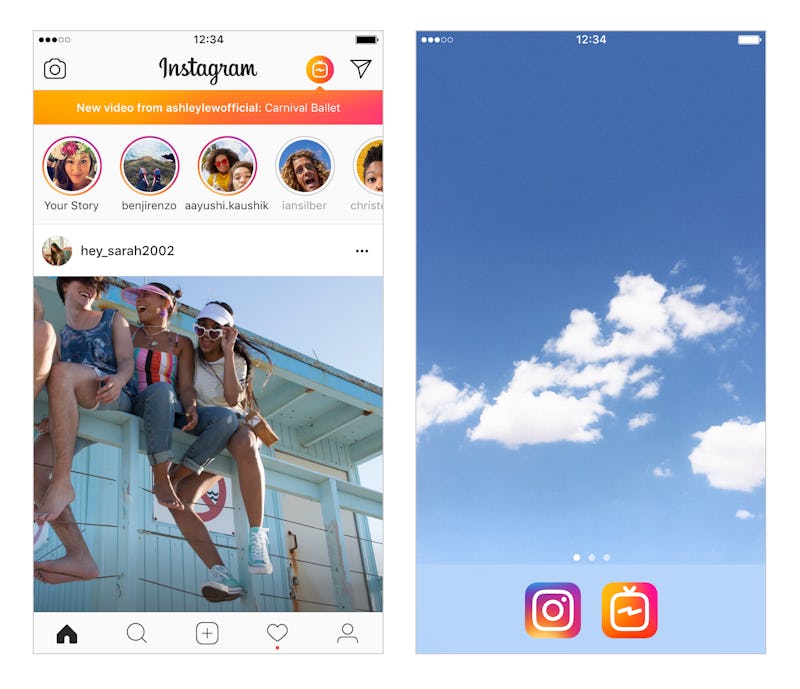 Instagram
Much like the Kardashians, Instagram can feel like a challenge to keep up with (an apt comparison, if I do say so myself, given the famous sisters' love for the social app). With every update and new feature comes a brand new Insta vocabulary that you almost need to learn if you want to stay at the top of your 'Gram game. The latest IG news is super cool, though, and in the interest of keeping up, I'm sure you want to learn how to watch long-form videos on Instagram IGTV. Good news — it's incredibly easy!
Instagram product manager Ashley Yuki confirmed the news of IGTV (Instagram Television) at a press event on Jun. 20. "IGTV is a brand new experience inside the main Instagram app, and it's also its own dedicated standalone app," she told the crowd in San Francisco. The event was livestreamed to five cities including New York, and was available to users on the app through Instagram's main account, @instagram.
The new in-app experience and soon-to-come standalone app allows users to share and consume videos as long as 60 minutes, a huge increase from Instagram's former 60-second limit. The new IGTV will feel similar to YouTube in that, per TechCrunch, the company likely envisions a sweet spot of videos closer to 10 minutes, perfect for vloggers and other already established mobile content creators. In that spirit, Instagram worked with social media trendsetters including Bryce Xavier and Lele Pons to help launch the new long-form video feature, in hopes that they might be able to set IGTV trends early. Ideally, these individuals will create a standard for Instagram long-form video so that other users know what to do with the new feature.
For now, you can access IGTV by updating the Instagram app on your phone to Version 50.0. When I installed the update on my own phone and reopened the app, I was immediately greeted with a fun orange notification at the top-right of the screen pointing me toward longer-form IGTV content that, per Insta's algorithm, would be a good fit for me. And yes, it's about dogs.
The notification actually points to a small orange IGTV icon. Once you click it, you'll be whisked to an IGTV platform within the existing Instagram app. Here, you can search for and watch existing long-form video content. If you like what you see from a particular user or content creator, you'll be able to easily check out the other videos they've created, establishing favorite content much like you do when you subscribe to certain YouTube channels.
Finally, if you want to upload your own content in the IGTV platform as it stands now, you can tap the Settings icon (the one that looks like a wheel) on the right side of the screen, then tap "Create Channel." IGTV videos will be vertically-oriented and full-screen, and while they won't be the quality of a Netflix or HBO, they'll still be pretty darn good.
A standalone IGTV app is also on the way!
More to come...