How To Watch James Comey's CNN Town Hall Interview Even If You Don't Have Cable
by Priscilla Totiyapungprasert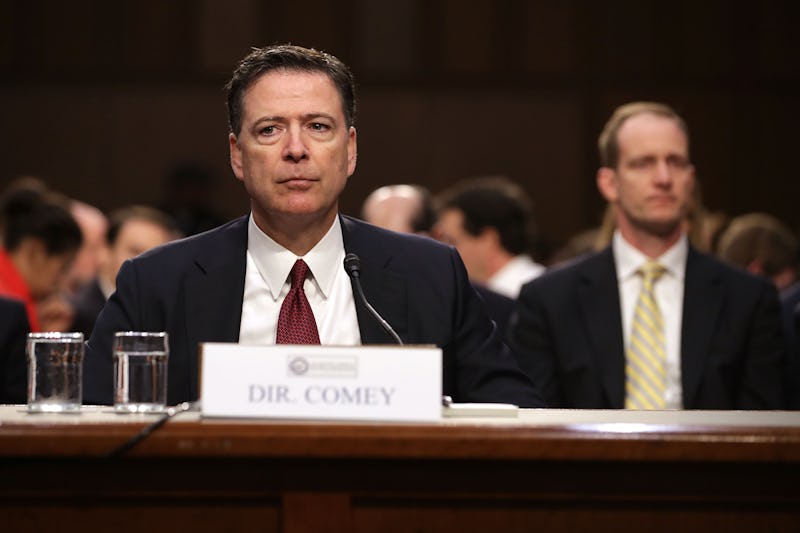 Chip Somodevilla/Getty Images News/Getty Images
If you can't get enough of the former FBI director Trump famously fired, you might be wondering how to watch James Comey's CNN Town Hall interview coming up on Wednesday. Journalist Anderson Cooper is scheduled to interview Comey, who's been giving one candid interview after another since his book was released earlier in April. Cooper and Comey should have plenty to talk about during the hour-long Town Hall, which airs Wednesday, April 25 at 8 p.m. EST.
Comey and Cooper will chat in front of a live audience at Comey's alma mater, the College of William & Mary, in Williamsburg, Virginia. And luckily for you, there are a few ways to watch Comey's CNN Town Hall interview. You can watch it live on television, or view it online via CNN.com/go. If you have the CNNgo app on a device, you can also watch it there. And, of course, if you don't have access to those resources, you can keep up with how viewers respond to the Town Hall on Twitter. Video snippets will surely be posted on the social media site as well.
Among other topics, Cooper plans to ask Comey about his very public firing, CNN reported. He will also ask Comey about his new book A Higher Loyalty: Truth, Lies, & Leadership, which was released April 17. The book details Comey's upbringing, his law career, and his tenure at the FBI. While critics gave the Comey memoir mixed reviews, users on Goodreads have so far rated Comey's book more than 4 out of 5 stars overall.
Book reviewer Dan Sinker wrote for A.V. Club about what might be one of the most controversial sections in the book:
Comey's commitment to ethical leadership gets muddied in the Clinton chapters. Reading about the decision-making process that led to his infamous letter that reopened the investigation into her email servers a week before Election Day is like watching a slow-motion train wreck you're powerless to stop.
The FBI's handling of the Hillary Clinton email investigation is a sore topic for many Democrats who believe the email distraction derailed Clinton's campaign and potentially cost her the presidency. You can expect Cooper to grill Comey on this topic.
During the CNN Town Hall, Cooper may also ask the former FBI director about some of the truth bombs Comey dropped in the last quarter of the book — or as Sinker calls them, "dunks" on Trump. That's the part about Russian prostitutes, "golden showers," and Trump's loyalty pledges, all of which were revealed to Congress and the public on April 19 in the Comey memos.
According to the memos Comey wrote, Trump denied the now infamous allegation that he hired prostitutes in Moscow in 2013 and watched them perform sex acts involving peeing. The Trump "pee tapes" are "fake news," the president insisted, according to Comey. Russia also denounced the dossier as an "absolute fabrication." You'll have to wait until Wednesday to see if Cooper brings it up.
In response to the memos, Trump claimed they cleared his name from the Russia collusion allegations (which they didn't) and called the memo revelation a "witch hunt." Trump tweeted on April 19:
James Comey Memos just out and show clearly that there was NO COLLUSION and NO OBSTRUCTION. Also, he leaked classified information. WOW! Will the Witch Hunt continue?
CNN reported that Cooper will also discuss with Comey the Russia collusion allegation, which accuses the Trump campaign team of working with Russian intelligence to interfere in the 2016 U.S. election. Both Trump and Russia continue to deny the allegation. The news agency reported that Trump said at a press conference on January 11, 2018:
...there has been no collusion between the Trump campaign and Russians or Trump and Russians. No collusion. When I watch you interviewing all the people leaving their committees, I mean, the Democrats are all running for office, trying to say this that — but bottom line, they all say there's no collusion.
Now that Comey is no longer employed by Trump, the ex-FBI director is pursuing other work. The Daily Press reported that next fall, Comey will teach a course in ethical leadership at William & Mary. Ethical leadership, as it turns out, is main theme in Comey's memoir. Tune in Wednesday to the CNN Town Hall to watch Cooper interview Comey.