This New Lindsay Lohan Show Is The Reality TV You Didn't Know You Needed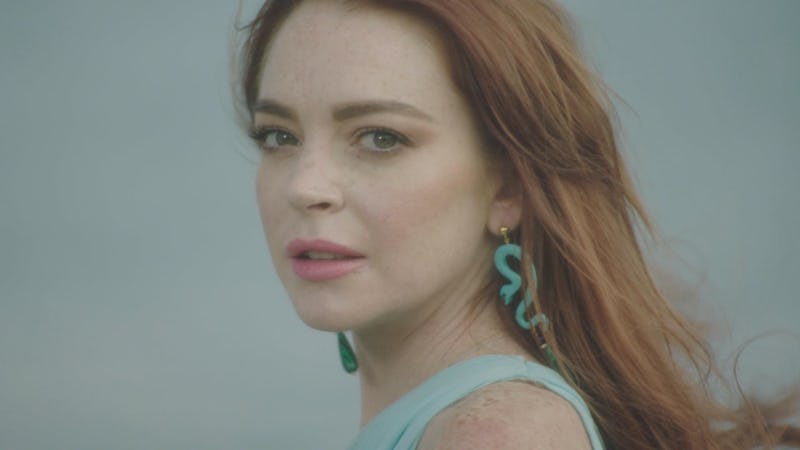 MTV
If you didn't already know, Lindsay Lohan has made her return our screens, but not in the way that you might think. After a couple of years out of the spotlight, Lohan is back with her new show Lindsay Lohan's Beach Club on MTV. Expect high levels of drama served up in a Vanderpump Rules format. But where can you watch this exciting new reality TV show? Here's how to watch Lindsay Lohan's Beach Club in the UK.
Lindsay Lohan has been in the nightclub industry for a little over two years now, after opening her first club in Athens in 2016. The former actress then went on to open the Lohan Beach House in Mykonos in 2018, which, of course, serves as the setting for the show.
If you have not seen the iconic Mykonos video of Lindsay Lohan dancing on stage at her beach club, you must. Her routine comes complete with two hair flicks and a high kick, just as any good dance routine should. This video sparked the social-media craze "The Lilo", which sees fans trying to copy the dance. It's a must see.
Lindsay Lohan's Beach Club begun airing MTV on Jan. 9, according to MTV.co.uk, and is available to catch up on via Now TV.
The show stars Lohan in a very similar role to Lisa Vanderpump in Vanderpump Rules. She's the overseer of the business, and comes in and out to give her members of staff stern talkings to whenever it's needed. Lohan handpicks a group of twenty-somethings to serve as VIP hosts for the club with her partner Panos Spentzos. As with any alcohol-fuelled reality TV show, there are, of course, hook ups, breakups and fights. Classic.
But there is a more poignant story behind Lohan's beach club opening. According to the Daily Mail, Lohan opened up in the premiere episode of her MTV show, saying she was inspired to open the club after an alleged domestic abuse incident with her ex-partner, Egor Tarabasov. "I was in a very tumultuous relationship. I was in a different place in my life. Instead of crying or getting angry, I said I'm going to own this beach one day because I always want everyone to feel safe," Lohan said.
In the promo video Lindsay Lohan's Beach Club is magnificent in itself, set to Lohan's 2008 tune "Bossy." Iconic. In the video, Lohan says: "People have always given me trouble for going to clubs, so why don't I just open my own?" I don't know about you, but that is major 2019 energy right there.
However, this is not Lohan's first brush with reality TV. Back in 2014, she did an eight-part docu-series called Lindsay. The show was created off the back of an interview with Oprah, in which Lohan admitted that she was addicted to alcohol.
Since that confession, it appears that Lohan has really turned her life around. I am all here for this new businesswoman revival of LiLo.
You can catch the Lindsay Lohan Beach Club on MTV on Wednesdays at 10 p.m.