Here's How To Watch The 2017 Emmys Red Carpet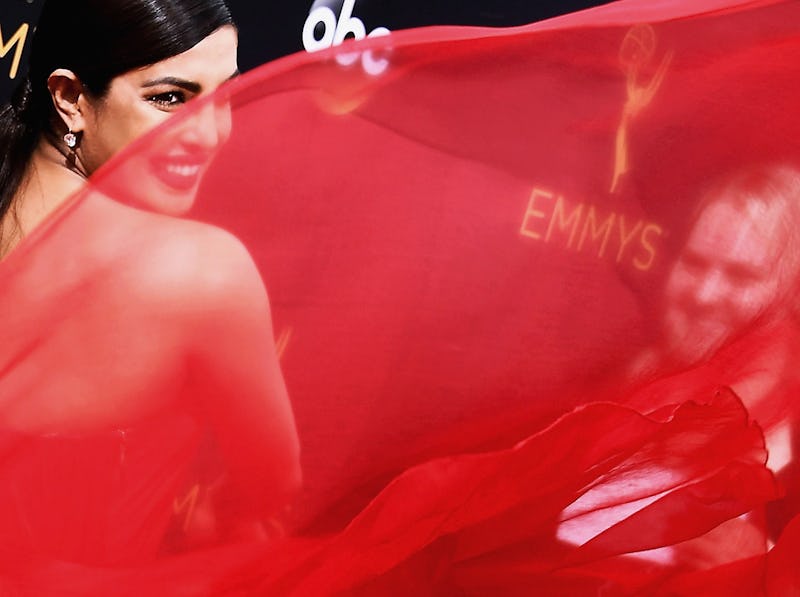 Frazer Harrison/Getty Images Entertainment/Getty Images
Get ready for a night of fashion fun because the 2017 Emmy Awards are almost here. The actual awards might be what the night is all about, but the red carpet is where personalities shine and some of the most iconic moments are made. If you're wondering how to watch the Emmys red carpet, here's everything you need to know. Because no fashion-lover should live this night just through live-tweets.
Before we start talking about how to watch the most anticipated award show of the year, let's talk about when to watch. The Emmys will officially start at 8 p.m. ET/ 5 p.m. PT on CBS, if you're into actually watching the awards and not just seeing the style.
If you're into the latter, set your alarms for two hours earlier, because the red carpet magic will start at 6 p.m. ET/ 3 p.m. PT.
You might not has a say in the time of the event, but there are plenty of options when it comes to how you view it.
The traditional on-air option will covered by E! News, per usual. The network will be taking their team of over-dressed anchors and 360 degree cameras to the event to make sure you get all the outfit coverage your little heart desires.
In fact, E! News already has some behind-the-scenes coverage going right now. The network interviewed Padma Pakshmi to see what she'll be wearing, because you can never start too early.
Entertainment Tonight will also be on the carpet for the full two hours leading up to the event. You can check your local listings here, so you're prepared before the big night.
No cable? No problem! You won't have to miss out on all the fashion, even if you're left without a television. Entertainment Tonight and PEOPLE are joining forces to bring you a two-hour, uninterrupted live-stream of the Emmys red carpet. You can head over to ew.com on Sept. 17 to get internet-based style viewing.
You can then head over to CBS all-access to stream the Emmys Awards on your computer, tablet, or phone. You'll be able to access the app for free trial on the night of the event, even if you don't currently have a cable provider. You basically have to try to miss this event.
This is one event that you won't want to miss out on, either. Stephen Colbert will be hosting, so you already know it will be entertaining. Not to mention that stars from Netflix shows like The Crown and Stranger Things to cable classics like Modern Family and Black-ish will be at the event, so the talent and personal style will be on-point.
If all else fails in you Emmy Awards-watching plans, there's always the backup — social media. Everyone from fashion fans to publications will be live-tweeting the big night — Bustle included. As long as you have battery-life on you phone, you can be included in the conversation, too.
People will likely be tweeting from the morning until the shows end and even beyond using the official hastags #Emmys or #Emmys2017. You'll know it's the right one because there's an adorable little Colbert emoji holding an award. If that doesn't make you want to live-tweet throughout the entire event, then I don't know what will.
Because, let's be honest. While the announcement of the winners is fun and all, it's way more fun to see all the Emmys memes and fan reactions.
Bottom line: All the possibilities are there, so there's no excuse for not being able to join in on all the Emmys fun. Whether you're stuck at work or sitting at home on the night of the big event, there are tons of ways to stay up to date on the latest celeb fashion.