Why This Year's People's Choice Awards Is Actually A Huge Deal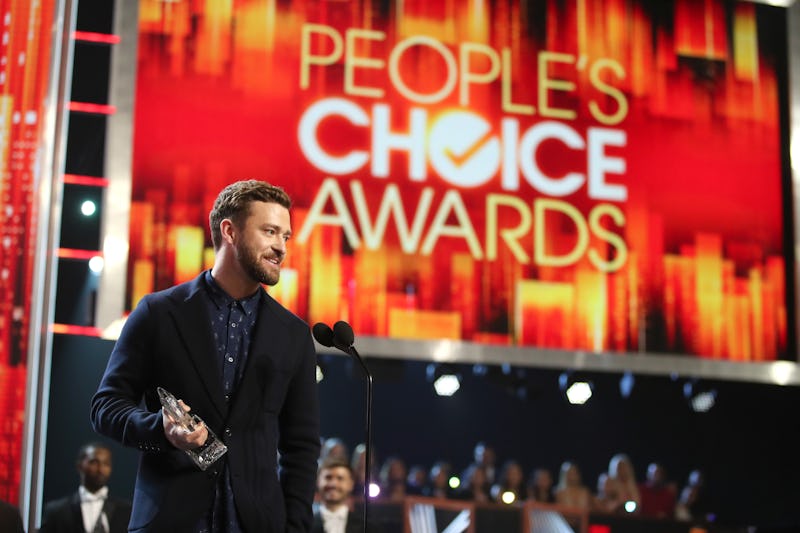 Christopher Polk/Getty Images Entertainment/Getty Images
This year, the People's Choice Awards is celebrating a few firsts. Not only is the already jam-packed awards show introducing 13 new categories, but it's also moving to a new network: E! With big performances scheduled and even bigger stars up for awards, the stage is all set for a great night — the only question remaining is whether you'll be watching. The ceremony airs Sunday, Nov. 11 at 9 p.m. on E!, but there are a number of ways to tune in. So, here's how to watch the 2018 People's Choice Awards — including if you don't have cable.
The awards show will be airing on more channels than ever before, so there is ample opportunity to catch it live. E! reports that the show will be broadcast on all of the NBCUniversal networks, which includes Bravo, E!, SYFY, Universo, and USA Network. Before the show, E! will be reporting from the red carpet beginning at 7 p.m. So if you just can't wait to see what stars like Nicki Minaj, Rita Ora, Melissa McCarthy, Victoria Beckham, and (fingers crossed!) Drake will be wearing — or what awards they'll be winning — there will be plenty of channels running the show to choose from.
The news is a little less rosy for cord-cutters. E! reports that while there will be a behind-the-scenes live stream available on the E! app and the E! YouTube and Twitter channels, the show itself won't be available for streaming online. So it's time to call up your mom and see if she'll let you crash on the couch and mooch off her cable subscription for the night, because this isn't a show you'll want to miss.
Melissa McCarthy will be gracing the stage to accept the inaugural People's Icon award, and Victoria Beckham will be there to receive the 2018 Fashion Icon award (probably wearing something iconic). If that wasn't enough, some of your favorite musical artists are also set to perform. Nicki Minaj will be opening the show, and John Legend and Rita Ora will also take the stage to perform some of their latest hits.
Plus, there's a good chance some of your favorite actors will be walking down the red carpet. With movies like Black Panther and popular series like This Is Us nominated for major awards, these casts could stand to win big, and might show up to accept their awards in person. And with 13 new categories, including The Revival Show of 2018, The Reality Show of 2018, The Bingeworthy Show of 2018, The Reality TV Star of 2018, The Comedy Act of 2018, and The Game Changer of 2018, there will be more show, more celebrities, and more awards to give out than ever before.
So don't let the lack of a live stream prevent you from tuning into what's sure to be a stellar show. Find a TV, hunker down, and get ready to see which celebrities the people have determined to be the most award-worthy this year.